South African Stocks End Four Days of Losses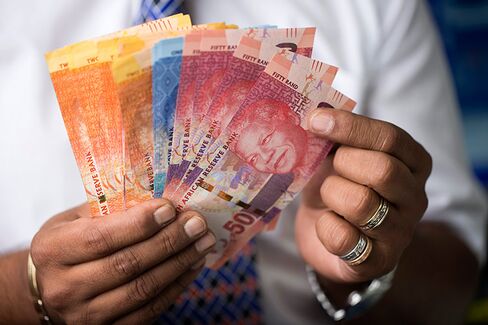 Rand rebounds after declining to record low on Monday

Equities recover from slide to 8-month low in panic selling
South African stocks rose for the first time in five days, rebounding from an eight-month low amid a sell-off in emerging markets on Monday, as the rand rallied the most in more than three months.
The FTSE/JSE Africa All Share Index jumped 2.8 percent, the most since Dec. 18, to 48,980.84 by the close in Johannesburg on Tuesday, with 127 stocks gaining, 33 falling and 7 unchanged. The currency of Africa's most industrialized economy strengthened 1.7 percent to 12.9881 per dollar by 5:34 p.m. in Johannesburg, after touching a record low on Monday.
"What we're seeing is a relief rally," Grant Cullens, chief executive officer of African Alliance Securities Ltd., said by phone from Johannesburg. "The question is whether or not there's going to be longevity in it. By and large we've probably seen the worst of the correction."
The rand's 11 percent depreciation against the dollar this year is bolstering the case for interest-rate increases even as the economy records the slowest pace of expansion since a 2009 recession. Panic selling engulfed developing markets on Monday as Chinese shares plunged the most since 2007, commodity prices slumped to a 16-year low, and a gauge of currencies sank to a record.
Leading Gains
The top advancers on the stock exchange included Imperial Holdings Ltd., owner of South Africa's biggest car-dealership network, which rose 13 percent after saying it's looking for acquisitions to expand its logistics business on the continent as growth in its home market slows. Naspers Ltd., Africa's most valuable company with a market capitalization of 725 billion rand ($55.6 billion), added 7.5 percent.
SABMiller Plc, the world's second-biggest brewer, gained 1.7 percent to 611 rand, while Mondi Plc, a paper and pulp producer, increased 1.8 percent to 289 rand
"The dual-listed stocks are the probably the best bet at the moment," Rob Pietropaolo, a trader at Vunani Private Clients, said by phone from Johannesburg, referring to companies including Mondi and SABMiller that are listed in London and Johannesburg.
Before it's here, it's on the Bloomberg Terminal.
LEARN MORE