Roundup of U.S. Economic Data for Aug. 25: The Takeaway
Confidence jumps as employment availability at seven-year high

Improving sales leaving homebuilders with pipeline of work
What you need to know about Tuesday's economic data:
CONFERENCE BOARD'S CONSUMER CONFIDENCE (AUGUST)
Climbs more than forecast to 101.5, second-highest in eight years
Jobs currently plentiful measure strongest since 2008
Aug. 13 cutoff date for survey, prior to stock-market correction
The Takeaway: The survey showed perseverance in America's labor market. The so-called labor market differential, which measures the share of respondents who say jobs are "plentiful" minus the share describing them as "hard to get" was zero, the best reading since January 2008. The caveat is that the survey results were collected prior to the collapse in stock prices as investors grew concerned about the global economy.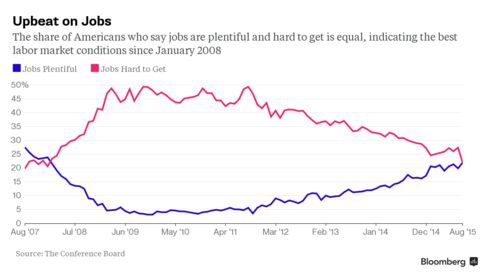 NEW-HOME SALES (JULY)
Purchases climbed 5.4 percent, the most this year, to a 507,000 rate from a seven-month low in June
July increase was broad-based, with gains in three of four regions
Number of homes sold but not yet started rose to an annualized 192,000 -- most since June 2007
The Takeaway: The jump in the number of houses sold but not yet started, combined with a low level of properties under construction and completed, signals residential construction will continue to strengthen to meet demand. That means housing will bolster economic growth in the second half of the year.
S&P/CASE SHILLER HOME PRICES (JUNE)
Property values in 20 U.S. cities rose 5 percent YoY for a fourth month
Eleven cities showed faster price appreciation YoY compared with 10 in May
Denver home prices up 10.2 percent; San Francisco up 9.5 percent
Home values nationwide increased 4.5 percent from June 2014
The Takeaway: Home prices are settling into a trend of modest appreciation as the market shows further signs of steady momentum. Healthy demand for new properties has builders struggling to keep pace, supporting property values. Sustained job growth already is helping more Americans get into the game, while easier lending standards and the rising cost of renting are also ingredients for persistent advances.
Before it's here, it's on the Bloomberg Terminal.
LEARN MORE