Poundland Gets Green Light From Regulator for 99p Stores Buy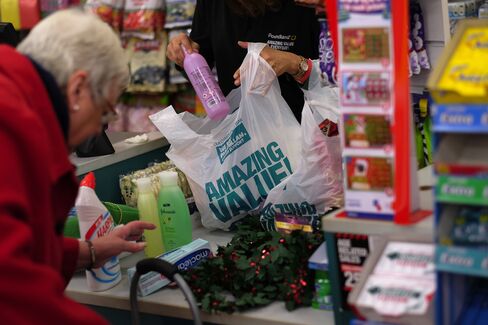 Poundland Group Plc will be allowed to proceed with its 55 million-pound ($87 million) takeover of the 99p Stores chain after the U.K. antitrust regulator cleared the deal following a four-month investigation.
The transaction, which brings together the U.K.'s largest fixed-price budget store chains, won't lead to significantly reduced competition, the Competition and Markets Authority said Tuesday, sending Poundland shares soaring. The prevalence of other discounters and competition from supermarkets including Tesco Plc means customers won't be any worse off, the CMA said.
The deal will add another 2 million weekly shoppers and 251 stores to Poundland's 5 million customers and about 600 outlets. Poundland, which reported sales growth of 11 percent last year, has said it sees potential for another 400 British stores as consumers seek out low prices -- excluding any stores obtained from the 99p deal. Tesco, J Sainsbury Plc and Wm Morrison Supermarkets Plc have all lost market share to discounters.
"We see this as the most favorable possible outcome for Poundland," Shore Capital analysts said in a note.
Poundland shares rose 5.6 percent to 348.5 pence at 8:06 a.m. in London, the steepest gain since February.
Jefferies analysts upgraded Poundland to buy from underperform this month, saying the retailer's shares could rise to 400 pence if the CMA's decision was positive. Explaining its decision, the regulator said the acquisition wouldn't give Poundland an incentive to reduce the quality of its offering, either locally or nationally.
"The CMA found that, along with Poundworld, the companies are each other's closest competitors, but after the merger they will still face competition" from other discount retailers, Tesco and Wal-Mart Stores Inc.'s Asda, the CMA said.
The CMA's clearance remains subject to a period of consultation running until Sept. 16.
Before it's here, it's on the Bloomberg Terminal.
LEARN MORE