Oil Market's Reliance on Asian Growth Tested in Stock Meltdown
China imported more crude oil than the U.S. in April

Asian demand seen as vital in oversupplied oil market
Where are you going, Chinese oil demand? The market turns its lonely eyes to you.
Crude prices fell to 6-year lows on Monday as stock market routs in China and other emerging markets threatened to slow economies in the most important region for oil demand. Developing Asian nations have accounted for 72 percent of global demand growth since 2010, according to Amrita Sen, chief oil economist for consultant Energy Aspects Ltd. China imported more oil than the U.S. in April.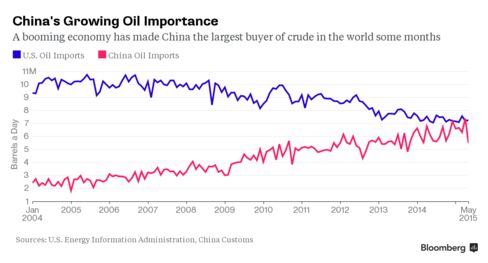 "Asia is the only short left in the market, everyone else is long," Sen said by phone from London on Monday. "Everybody has supplies, they're the only ones with demand."
Brent futures settled below $45 and West Texas Intermediate closed under $40 on Monday, both for the first time since 2009. The largest U.S.-listed exchange-traded fund tracking yuan-denominated equities fell the most on record. More than $5 trillion has been erased from the value of stocks worldwide since the devaluation of the yuan on Aug. 11.
The stock market volatility hasn't had an impact on oil demand yet, Sen said. Investors are concerned, though, because any slowdown in demand growth could exacerbate the oversupply in the market and extend the time needed for it to come into balance again.
"People have been entirely focused on supply because demand has been growing strong," Sen said. "The probability of demand slowing from here on is high, so supply will have to fall even more sharply to completely rebalance the market."
Before it's here, it's on the Bloomberg Terminal.
LEARN MORE