O2 Czech Jumps as Company Considers One-Time Shareholder Payment
Payment equivalent to 22 percent of Monday's closing price

Company can increase debt level by 50 koruna per share
O2 Czech Republic AS's shares jumped to the highest in eight years after an official said the Prague-based phone company was considering a one-time payment to shareholders.
The operator, which is 85 percent owned by Czech billionaire Petr Kellner's PPF Group NV, rallied 13 percent to 192 koruna by the close in Prague, the highest since Sept. 2007 when adjusted for a spinoff of some operations earlier this year. O2 Czech is considering a 38 koruna one-time payment on each share and has capacity to increase debt by as much as 50 koruna per share, Supervisory Board Chairman Martin Stefunko said in a video interview posted on the Motejlek.com website.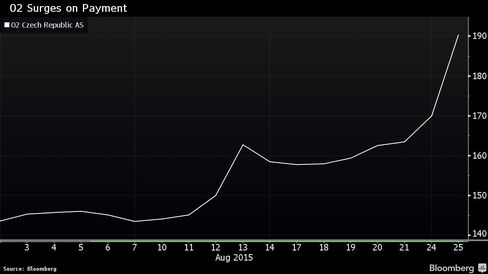 The shares more than doubled their value this year as the company unwound mobile and fixed networks into a separate company. The changes are part of a company reorganization since PPF purchased a majority stake from Telefonica SA in November 2013. While Telefonica had an incentive to keep debt levels low, the management is looking for a more efficient capital structure since the change of ownership, according to Tomas Tomcany, an analyst at Patria Finance AS in Prague.
"It's a restructuring of the balance sheet that makes sense," Tomcany said. "Debt is cheap and the company's indebtedness is very low compared to peers."
Before it's here, it's on the Bloomberg Terminal.
LEARN MORE