Merger Bubble May Burst as Record Goodwill Piles Up: Real M&A
S&P 500 members carry $2.5 trillion of goodwill, a new high

Overpriced acquisitions could lead to future writedowns
The biggest threat to U.S. stocks right now may not be China, currencies or commodities prices. It might be American companies' own merger appetite.
Acquirers worldwide have already spent $2.2 trillion on transactions in 2015, putting the year on track for a record. The buying spree has been particularly audacious in the U.S., where acquirers are offering record prices relative to the revenue and profit they're gaining from the deals.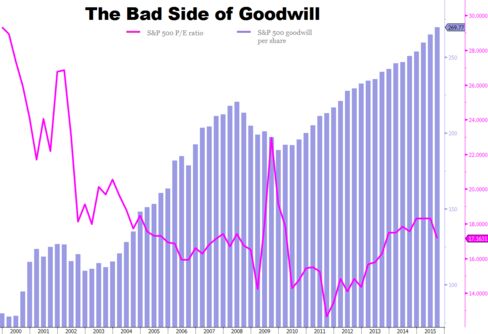 The result: Goodwill is surging. It jumped substantially this quarter, to $2.5 trillion for members of the Standard & Poor's 500 Index, according to data compiled by Bloomberg. That's a new record, and a sign that dealmakers are increasingly overpaying.
Need more proof? American publicly traded companies are selling for 3 1/2 times their book value. In dollar terms, that's $700 billion paid for assets that are worth only about $200 billion on paper.
"I'm amazed at what people are paying for companies," Mandeep Trivedi, a principal in the valuation practice at Citrin Cooperman, said in a phone interview. "I don't know of an industry where I'm not taken aback by what people are willing to pay."
The data validate a growing concern among some investors that mergers have formed a bubble and looming writedowns may pop it. But up until last week, the U.S. stock market appeared sturdy, save for the ongoing weakness in oil shares. And the economy was proving durable enough for the Federal Reserve to contemplate its first interest-rate increase in years.
Then came the selloff, precipitated by a rout in emerging markets. The S&P 500 is now down 5.8 percent for the year, even after rebounding some on Wednesday. It signals the market's fragility and how easily a few ill-fated mergers could roil equities.
Not all the goodwill out there is bad. Much of the S&P 500 comprises major companies with strong brand names and valuable patents, which are recorded on their balance sheets as goodwill. The problem is how quickly this intangible asset is accumulating, as many companies overpay for acquisitions. When that happens, the buyer eventually has to write down the purchase, thereby reducing net income.
Current goodwill levels don't even account for all of this year's dealmaking because some transactions haven't closed yet. Two-thirds of the takeovers announced so far in 2015 are still pending, many of which will extend into next year.
One industry marked by pricey takeovers lately is pharmaceuticals. Take Endo International Plc. The company, one of the many drugmakers seen as needing to hunt or be hunted, agreed in May to buy Par Pharmaceutical Holdings Inc. for about $8 billion. That's 55 times what Par earned before interest, taxes, depreciation and amortization in 2014, according to data compiled by Bloomberg. Endo calculates a multiple closer to 10 to 11 times Ebitda based on 2016 projections after synergies.
Chipmakers Avago Technologies Ltd. and Broadcom Corp. also agreed to a costly merger in May. The $37 billion offer is the equivalent of about 24 times Broadcom's Ebitda. St. Jude Medical Inc., the medical-device company, is acquiring Thoratec Corp. for 42 times Ebitda, or $3.3 billion. And just last week, Liberty Interactive Corp.'s QVC business agreed to buy online retailer Zulily Inc. for about $2 billion, or 72 times Ebitda.
These frothy valuations have helped push the median Ebitda multiple for U.S. takeovers larger than $1 billion to almost double the level in 2012.
The irony is that an ubiquitous need for earnings growth is driving many of the large transactions that were struck this year. But if acquirers are paying too much, profit will instead take a punch.
Just ask Microsoft Corp. (Nokia writedown), Hewlett-Packard Co. (Autonomy and Palm), mining-related companies such as Rio Tinto Group and Caterpillar Inc. that bought at the commodities top and a slew of other corporations tarnished by deal decisions.
So while the M&A market keeps bustling now, it may not be long before the skilled dealmakers are sorted from the ones who should have steered clear.
(An earlier version of the story was corrected to fix the Ebitda multiple paid by Endo for Par Pharmaceutical in the 10th paragraph.)
Before it's here, it's on the Bloomberg Terminal.
LEARN MORE