Market Rebound Materialized From 3-Year Crest in Volatility
Risk assets climbing back after slump spurs investor panic

Bank of America gauge of cross-asset volatility at 2012 high
The recovery that is boosting stock markets around the world had its genesis in the worst bout of cross-asset volatility in three years.
Measured by a Bank of America Corp. gauge tracking swings from stocks to currencies, bonds, currencies and commodities, turbulence Monday in global markets reached the highest level since 2012. For Standard Life Investments' Andrew Milligan, the panic that gripped investors was overdone. The Standard & Poor's 500 Index rose as much as 2.9 percent Tuesday and European equities had their best day since 2011, while commodities and the dollar also rebounded.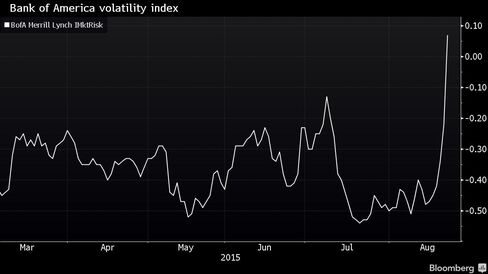 "It reminds me of many days when investors react to headlines and don't necessarily do the underlying research to look at the true situation," said Milligan, the Edinburgh-based head of global strategy at Standard Life Investments, which oversees $422 billion. "For long-term investors like ourselves, now is the opportunity with cool, calm heads to ask what's investor behavior telling us, are we correct with our views on fundamentals, and if we are, are there buying opportunities?"
The slump that erased $2.7 trillion in equity market cap in just one day -- the most in four years -- has sent valuations to the lowest levels since January. Markets are now reversing course after China cut interest rates for the fifth time since November.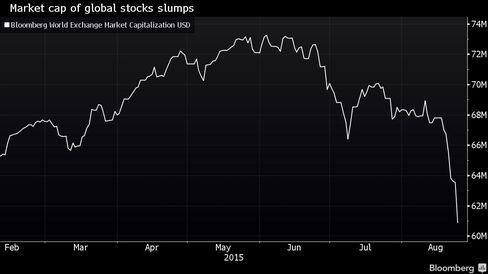 Investors had few places to hide during the rout as heightened concern over China's growth coincided with the Federal Reserve deliberating when to raise interest rates. Speculation rose that the central bank will delay the increase, just as Fed Bank of Atlanta President Dennis Lockhart said the stronger dollar, weaker Chinese yuan and falling oil prices complicate the outlook for the first rate hike.
While questions linger over policy making in China, Milligan said he remains confident the nation will sustain growth. Although certain countries in emerging markets have serious problems, there isn't a systemic issue like in the 1990s.
Bull Market
"We see it as a correction in a continued bull market," Milligan said.
Looking at volatility gauges, traders were particularly spooked over the stock rout. The VIX, tracking expected S&P 500 swings, surged to its highest level since 2008 relative to the JPMorgan Global FX Volatility Index on Monday.
JPMorgan Asset Management's Nicholas Gartside is considering how much the volatility in financial markets will affect the real economy.
"What we've seen is some wild swings," said the London-based chief investment officer for fixed-income at JPMorgan Asset Management, which has $1.7 trillion of assets under management. "The real question is what impact that has in terms of growth and inflation expectations. For growth expectations, at the moment, it's probably limited."
Before it's here, it's on the Bloomberg Terminal.
LEARN MORE