IndyCar Driver Wilson Dies of Head Injury From Flying Debris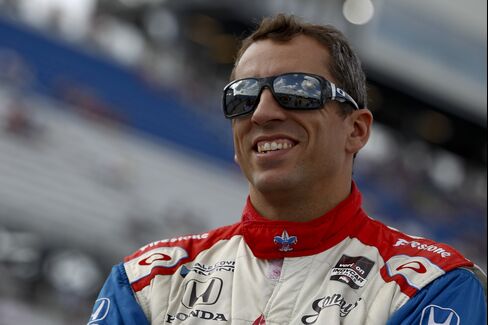 IndyCar driver Justin Wilson died of a head injury sustained when he was struck by a piece of debris that came loose from another car during Sunday's race at Pocono Raceway in Pennsylvania. He was 37.
Mark Miles, the chief executive officer of IndyCar's parent company, said Wilson's death marked a "monumentally sad day" for the motorsports community and fellow competitors remembered him as a great driver and great friend.
Wilson, a native of Sheffield, England, who lived in Colorado with his wife and two daughters, had seven career wins over 174 races in the open-wheel IndyCar series. Two-time Indianapolis 500 winner Dan Wheldon was the last IndyCar driver to die of injuries suffered in a race, passing away in October 2011 after his head struck a fencepost when his car went airborne during the season-finale in Las Vegas.
"Can't even begin to describe the loss I feel right now," Wilson's brother Stefan, a fellow IndyCar driver, said on Twitter. "He was my Brother, my best friend, my role model and mentor. He was a champion!"
Wilson had been airlifted to Lehigh Valley Hospital-Cedar Crest in Allentown, Pennsylvania, on Aug. 23 after being struck by debris that flew off the car of Sage Karam when Karam hit the wall on the 180th lap of the 200-lap race. Wilson had been in a coma in critical condition after the incident.
"Justin's elite ability to drive a race car was matched by his unwavering kindness, character and humility -- which is what made him one of the most respected members of the paddock," IndyCar's Miles said in a statement.
Karam, who suffered injuries to his right heel and left wrist in his crash on Sunday, said via Twitter that he wasn't able to find the words to express the pain and sympathy he feels for Wilson and his family.
The 6-foot-4 Wilson was a member of the Andretti Autosport team, which remembered him as a tremendous racer, a valuable team member and a respected representative for the sport.
" While Justin was only part of the Andretti lineup for a short time, it only took a second for him to forever become part of the Andretti family," the team said in a statement. "His life and racing career is a story of class and passion surpassed by none."
Before it's here, it's on the Bloomberg Terminal.
LEARN MORE