HSBC: A Look at History Shows World Markets Are Close to the Bottom
Time to go long?
"History suggests we are close to the bottom of this correction," asserts HSBC global equity strategist Ben Laidler, "and risk/reward to buying appears favorable."
In dissecting the duration of and damage from previous stock market declines, the strategist finds that this current one looks like it's close to its finale. Since 1988, the MSCI All Country World total return index has suffered a drop of more than 10 percent on 16 occasions, averaging a 20 percent decline over a span of 18 weeks., By comparison, this retreat has lasted for 14 weeks, during which time the index has given back 19 percent.
Though timing the market is a tricky task indeed, Laidler points out that investors who manage to buy the trough can look forward to an average 12-month return of more than 20 percent: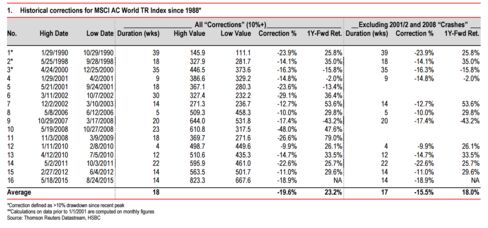 According to Laidler, this correction had many big-picture or fundamental drivers, including a growth and deflationary scare emanating from emerging markets (particularly China) that is adversely affecting global trade; commodity prices; PMIs and inflation break-evens; tight Chinese policy (which loosened this morning); volatility in Chinese equity and currency markets; and the prospect of lift-off from the Federal Reserve.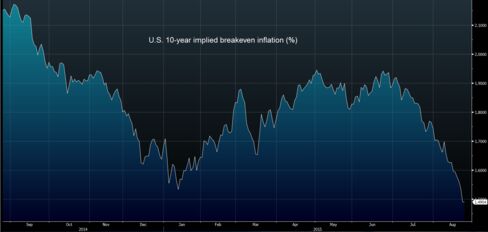 Other factors such as elevated valuations and low earnings growth amplified the pressure on global equities, effectively adding "fuel to the fire."
Laidler pointed to a policy response from China as a potential impetus for the conclusion of the correction -- which came to fruition in the form of a series of interest rate cuts from the People's Bank of China this morning -- along with an uptick in economic data or dovish commentary from the Federal Reserve.
While the United States and Japan are poised to weather the storm better than other markets, Laidler sees more medium-term upside in European and emerging market equities.
The S&P 500 has tumbled by at least 2 percent for three consecutive sessions as of Monday, only the third time this has occurred in more than 50 years.
Before it's here, it's on the Bloomberg Terminal.
LEARN MORE