China Rate Move Gives Emerging Stocks Biggest Jolt in Two Years
China ETFs pare rally after central bank's rate reduction

Mobius says Templeton `sitting on cash' as risks remain
Emerging-market stocks gained the most in two years, recovering from a seven-day selloff, and Russia's ruble led gains in currencies as China's steps to stimulate the economy bolstered appetite for riskier assets.
The advance in developing-nation assets was tempered by selling in the final hours of U.S. trading amid concern what will happen overnight in China as volatility continued to roil global markets. The People's Bank of China announced the fifth rate cut on Tuesday since November after the worst selloff in mainland stocks in almost 20 years added pressure for broad stimulus as authorities pull back from other direct efforts to boost equities.
"There is clearly a lot of uncertainty about how the market will open in China," Brendan Ahern, chief investment officer at New York-based Krane Fund Advisors LLC, said by phone. The late selloff in the U.S. "sends a cautious message across the markets."
The MSCI Emerging Markets Index rose 2.2 percent to 788.54 in New York, halting a seven-day drop that sent valuations to the lowest level since March 2014. The biggest exchange-traded funds tracking China's A-shares almost erased gains of as much as 5.2 percent and the Standard & Poor's 500 Index, the benchmark for U.S. equity, went from up 2.9 percent to down 1.4 percent.
China Cuts
China's central bank said in a statement after local trading hours it will reduce its one-year lending rate by 25 basis points and cut banks' required reserve ratio. The Shanghai Composite Index fell 7.6 percent to an eight-month low before the actions, which helped drive currencies from Russia to South Africa up more than 1.1 percent. An acceleration of monetary easing suggests policy makers are determined to boost growth, potentially benefiting countries from Brazil to Indonesia that rely on trade with China.
A gauge tracking 20 developing-nation currencies rose 0.1 percent as the ruble advanced 3 percent to 68.8500 per dollar and the rand gained 0.3 percent to 13.1951 against the greenback. Both South Africa and Russia count China as their biggest trading partners, according to data compiled by Bloomberg. A selloff shaved $2.7 trillion from global equities on Monday.
Downside Risks
All 10 industry groups in the MSCI gauge rose, led by technology and consumer stocks. Imperial Holdings Ltd., owner of South Africa's biggest car dealership network, rose 13 percent after the company said it's looking for acquisitions to expand its logistics business. Drugmaker Celltrion Inc. surged 14 percent in Seoul, while PT Adaro Energy Tbk rose the most in two years in Jakarta.
The rebound in emerging-market shares may be short-lived, according to Mark Mobius, chairman of the emerging-markets group at Franklin Templeton Investments.
"We have a little bit to go before we see stabilization, but volatility will remain," Mobius said in an interview with Bloomberg Television. "We are sitting on cash."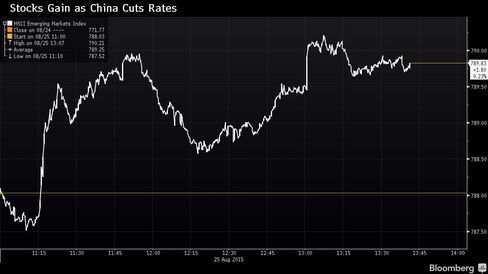 As Brent crude rose in London, Saudi Arabia's equity gauge, which fell into a bear market on Sunday, rallied 7.4 percent. Fifteen of the 30 largest equity markets among emerging economies have extended losses from their peaks to 20 percent or more, fulfilling traders' definition of a bear market.
Nigerian stocks didn't get a boost from the momentum in other developing countries on Tuesday, with stocks losing 1.4 percent and poised to join peers in bear territory.
The MSCI Emerging Markets Index is still down 10 percent since China devalued the yuan two weeks ago, driving the average price-to-earnings ratio for the next 12 months to 10.3 times, a 30 percent discount to the MSCI World Index of developed-country equities.
Before it's here, it's on the Bloomberg Terminal.
LEARN MORE