Mideast Stocks Rally With Oil as Investors Hunt for Bargains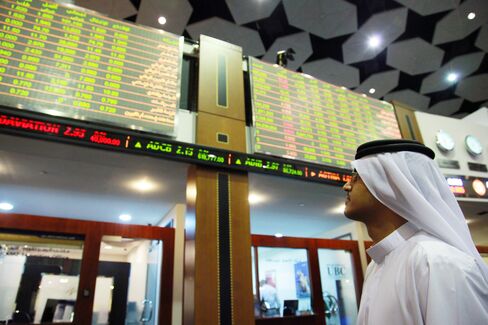 Traders exchanged highest number of Saudi shares since 2012

Saudi Arabian equities world's best performers after Greece
Saudi Arabia led the advance in Middle Eastern equities as oil rose from a 2009 low and the biggest two-day selloff in seven years lowered valuations.
The Tadawul All Share Index surged 7.4 percent, the most this year, to 7,543.05 at the close in Riyadh as traders exchanged about 593 million shares, the most in more than three years. Al Rajhi Bank was the biggest contributor to gains with a 7.7 percent jump. Dubai's gauge climbed the most since December after closing less than 20 points away from a bear market on Monday.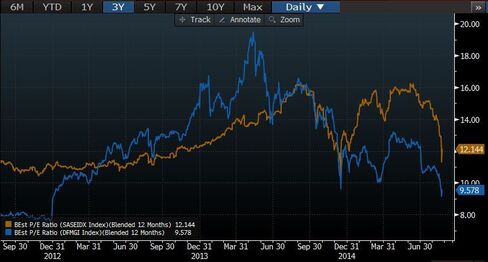 Equity markets in Saudi Arabia and Dubai were among the world's top 10 gainers following a three-day selloff that dragged their 12-month price-to-earnings ratios to the lowest since at least December. Brent crude was poised for its first increase in five days, easing investor panic over how economies in the six-nation Gulf Cooperation Council will cope with oil prices at the lowest in six years.
"It seems like sentiment is getting better with oil trading in the green again," said Riyadh-based Mohammed Al-Suwayed, the head of capital and money markets at Adeem Capital. "These levels are attractive for some investors, especially those who are looking to build positions in the financial sector."
Brent, the pricing benchmark for half of the world's oil, rose as much as 4.2 percent to $44.50 a barrel, after falling to the lowest since 2009 on Monday. Governments in the GCC, home to about 30 percent of the world's proven reserves, rely on income from oil to fund government spending.
The Tadawul is trading at about 12 times estimated earnings for the next 12 months, up from the lowest since December yesterday. Meanwhile, its 30-day volatility has soared to the highest since January. The measure's 14-day relative strength index fell to the lowest in more than two decades on Monday, a day after the benchmark stock gauge sank into a bear market.
Dubai Rises
Dubai's DFM General Index added 4.6 percent to 3,558.37, trading at 9.6 times 12-month projected earnings, up from the lowest level in more than two years on Monday. Traders exchanged almost 560 million shares, the most in more than two months. While the measure's 14-day relative strength index rebounded from the weakest this year, it remained in oversold territory along with the rest of Gulf stock gauges, except Qatar's.
"The bounce was just around the corner, from here to Abu Dhabi everything was so oversold," said Waleed Al Khateeb, the general manager at Dubai-based Daman Securities, which is advising clients to build positions gradually.
The Bloomberg GCC 200 Index, which tracks 200 of the region's top equities, increased the most since December from the lowest close in two years. Abu Dhabi's ADX General Index added 1.6 percent. Qatar's QE Index rose 3.2 percent. Oman's MSM30 Index advanced 0.4 percent and Kuwait's measure increased 0.3 percent, while Bahraini stocks were little changed.
In Egypt, Commercial International Bank Egypt SAE's 3.9 percent advance was the biggest contributor to the EGX 30 Index's 2.8 percent increase. The gauge's gain, the steepest in more than three months, snapped a nine-day losing streak.
Israel's TA-25 Index climbed 2.6 percent, the most in more than three years, after all but one of the gauge's 25 members rose. Bezeq Israeli Telecom Co. Led the advance with a 5.5 percent gain. The measure's 14-day relative strength index rebounded from 20 on Monday, the lowest in two years, to 33.
"There is some optimism as it seems like the crisis isn't as bad as people thought and the market is rebounding accordingly," said Steven Shein, a trader at Psagot Investment House Ltd. in Tel Aviv.
For Related News and Information:
Top Stories:TOP<GO>
Saudi Arabia Said to Seek Advice on Budget Cuts After Oil's Rout
Kuwait Says Oil Rout Heightens Need for Domestic Investments
Emerging-Market Stocks Halt Seven-Day Decline as Ruble Rebounds
Before it's here, it's on the Bloomberg Terminal.
LEARN MORE