Deutsche Bank: Two Simple Reasons This Looks Like a Good Time to Buy Stocks
Do you really want to bet against China?
Deutsche Bank's Chief International Economist Torsten Sløk just spent the past several weeks meeting with clients across Europe, and he has some thoughts on the recent global stock market sell-off.
Sløk says that while China was the number one topic of discussion, nobody could tell him why growth slowing from seven percent to six percent in that economy mattered to the U.S.
So in his eyes, there are two problems with this decline.
1) Betting against China has been a losing proposition for decades, why should now be different?

2) Despite this being a client conversation for several months, I still haven't seen a smoking gun chart showing why a slowdown in China will have a significant impact on the US expansion. If you have one then please send it along.
To help get his point across, Sløk references the VVIX, a "volatility of volatility" measure representing the expected volatility of the 30-day forward price of the VIX. You'll notice that the spike we saw yesterday was larger than when Lehman Brothers went bankrupt, or when everyone was worried about Greece leaving the Eurozone, or during the U.S. debt ceiling crisis of 2011. In Sløk's mind, those other events were far more important to corporate America, and this presents a buying opportunity.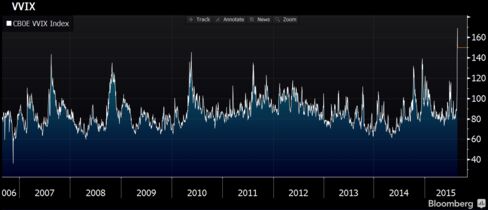 Before it's here, it's on the Bloomberg Terminal.
LEARN MORE