Canada Stocks Rebound as Financial, Energy Shares Pace Advance
S&P/TSX pares increase in final hour following six-day slide

Lenders lead advance as Bank of Montreal tops 3Q earnings
Canadian stocks rebounded from the worst plunge in almost four years, snapping a six-day slide, as banks led an advance after Bank of Montreal's earnings topped analysts' estimates.
Royal Bank of Canada and Toronto-Dominion Bank, the nation's largest lenders, rallied at least 1.7 percent as financial-services stocks jumped 1.7 percent as a group. Bank of Montreal rose 2.4 percent. Energy shares rose as commodities prices surged, with crude climbing from a six-year low.
Equities in Canada advanced as much as 3 percent at the open, the most since November 2011, before giving back about two-thirds of gains in the final hour of trading with U.S. equities sliding to a loss.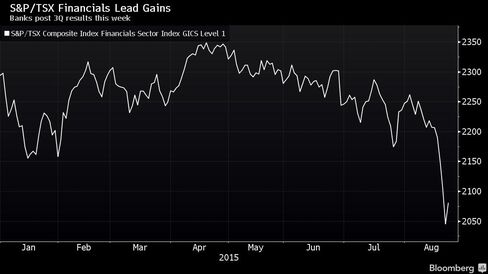 Equities around the world rallied earlier after China's central bank cut its benchmark interest rate for the fifth time since November in an effort to drive domestic growth. Some $2.7 trillion had been erased from the value of global stocks Monday.
The Standard & Poor's/TSX Composite Index rose 98.19 points, or 0.8 percent, to 13,150.93 at 4 p.m. in Toronto. The benchmark Canadian equity gauge has fallen 9.1 percent this month, headed for a fourth straight monthly decline, the longest such streak since September 2011.
A volatility gauge for 60 of the largest, most liquid Canadian stocks slipped 3.2 percent after soaring 35 percent on Monday. Seven of 10 industry groups in the S&P/TSX advanced on trading volume 24 percent higher than the 30-day average today.
Global Markets
The MSCI All-Country World Index of developed and developing markets slipped 0.1 percent, erasing an earlier gain of as much as 2.2 percent. The U.S. benchmark S&P 500 fell 1.4 percent in New York, reversing an earlier 2.9 percent increase after entering a correction yesterday. The Stoxx Europe 600 jumped 4.2 percent.
The resource-rich Canadian benchmark equity gauge has been one of the worst-performing developed markets in the world this year amid a collapse in crude prices. China unexpectedly devalued the yuan on Aug. 11, further fueling concerns about global growth and the demand for commodities from oil to copper.
Encana Corp. advanced 3.5 percent after agreeing to sell natural gas properties in northern Louisiana for $850 million to a venture run by GSO Capital Partners LP and GeoSouthern Haynesville LP in a bid to cut debt.
Cenovus Energy Inc. rallied 3.6 percent and Suncor Energy Inc. added 2.1 percent to lead energy stocks higher. West Texas Intermediate oil gained 2.8 percent in New York, rebounding from the lowest settlement since February 2009 on Monday.
Energy producers are the worst-performing industry in the S&P/TSX this year pacing declines with a 26 percent drop. Crude has slumped more than 35 percent from this year's June peak amid concern global growth is slowing.
Before it's here, it's on the Bloomberg Terminal.
LEARN MORE