Buy the Dip Becomes Buy the Correction as S&P 500 Bounces at 11%
Stock investors see buying opportunity at current price levels

China rate cut spurred the rally that has people reconsidering
Bulls have a new line in the sand. Whether it holds for more than a few hours remains to be seen.
Helped by a Chinese interest-rate cut, the Standard & Poor's 500 Index rebounded Tuesday after its 11 percent fall from May completed the first correction in almost four years. A survey of damage done in the fiercest selloff since Europe's sovereign credit crisis shows why U.S. investors who withstood the rout might see a few reasons for optimism.
For one, all but nine companies in S&P 500 closed Monday below their respective 12-month price targets set by analysts, fewer than at another recent bottom on Oct. 15, data compiled by Bloomberg show. The benchmark index fell almost 10 percent below its 200-day moving average, a level of depression that has prevailed just one other time since the bull market began -- in August 2011.
Lines on charts and other measures of upward and downward momentum have mattered a lot to traders in 2015, a year the S&P 500 spent locked in an 154-point trading range before tumbling 9 percent in the three days through Monday. Now, based on their year-end targets, Wall Street equity forecasters are close to unanimous in predicting a recovery.
"This correction is absolutely textbook," Brian Belski, chief investment strategist at BMO Capital Markets Corp., said by phone. "It's opened up opportunities for investors and if you're a fundamentals investor you should be buying stocks on sale today. I find the lack of investor perspective disturbing."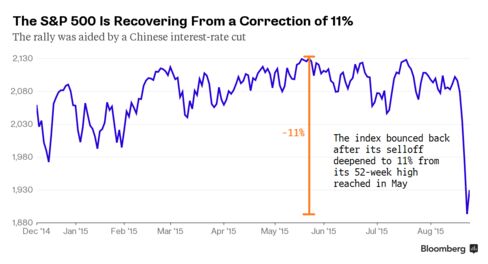 After falling 12 percent in the week through Monday, shares for Apple Inc., the biggest component of the S&P 500, traded about $44 below the consensus 12-month analyst target price, the biggest gap on record. The same is true for the $48 billion Dow Chemical Co., which lost 11 percent, putting it almost $16 below estimates.
On average, stocks in the S&P 500 were 23 percent below analyst estimates on Monday, compared with a 12 percent discount as of last week.
Bullish Strategist
Amid the slide in share prices, market strategists tracked by Bloomberg remain bullish on the prospects of U.S. stocks. Dubravko Lakos-Bujas, head of U.S. equity and quantitative strategy at JPMorgan Chase & Co. in New York, recommended buying in a client note on Tuesday.
The effect from the China growth slowdown will be limited, said Lakos-Bujas. Companies in the gauge get just 2 percent to 3 percent of their sales from the world's second-largest economy, and exports to China account for just 1 percent of U.S. gross domestic product, according to data compiled by JPMorgan.
Bank of America Corp. equity strategist Savita Subramanian, RBC Capital Markets LLC chief strategist Jonathan Golub and Fundstrat Global Advisors LLC managing partner and co-founder Thomas Lee affirmed bullish views heading into last weekend, even with the S&P 500 down 5.2 percent over two days.
The last time the S&P 500 was this far below its 200-day moving average was during the two-week period from Sept. 21 and Oct. 7 of 2011. The benchmark gauge rebounded 11 percent to a two-month high over the following three weeks.
Credit Markets
Michael Shaoul of New York-based Marketfield Asset Management LLC is taking cues from elsewhere. Shaoul said a build-up in credit market stress that has been visible since early August "started to clearly dislocate last week." If that isn't remedied, the market will struggle to find footing and maintain today's gains, he said.
Before the rout, the S&P 500 had been capable of rallying even as the extra yield bond investors demand over Treasuries widened. Credit stress continued to build, with the spread for global high-yield companies expanding to 7.39 percentage points on Aug. 20, the highest in almost three years, according to Bank of America Merrill Lynch index data.
"Unless we see an abrupt narrowing of credit spreads we will still be in a corrective phase," Shaoul wrote in a client note on Tuesday. "We continue to use credit markets as our guide."
Laszlo Birinyi, the investor whose bullish calls have repeatedly come true since 2009, said investors can take heart that an explanation existed for the decline, namely China. While he's hesitant to put out a specific market forecast due to "too many moving parts," Birinyi predicted the market would "come out OK" after the retreat. Bill Schultz of McQueen, Ball & Associates Inc., shared the sentiment.
"You've got some pretty good names that were down pretty substantially that went from an overvalued position to one that's a little more reasonable," said Schultz, who oversees $1.2 billion as chief investment officer at McQueen, Ball in Bethlehem, Pennsylvania. "It's certainly a much more palatable position to be in, to nibble on some stocks here."
Before it's here, it's on the Bloomberg Terminal.
LEARN MORE