Brazilian Stocks Advance on China as Real Leads World Declines
Ibovespa erases most of earlier gains as U.S. equities tumble

Currency drops to 12-year low after climbing as much as 1%
The Ibovespa rebounded from a six-year low as China's efforts to shore up growth bolstered the outlook for Brazilian exporters. The real led world losses as data showed the nation's current-account deficit widened.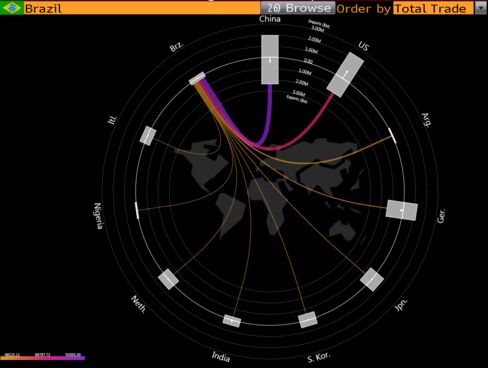 The equity gauge climbed after Brazil's top trading partner lowered its benchmark lending rate to stem a stock-market rout and a deepening economic slowdown. Shares pared their gains a after a rebound that took the Standard & Poor's 500 Index up 2.9 percent melted away in the final hour of trading.
The real dropped the most in a month after the central bank said the deficit in the broadest measure of trade in goods and services swelled to $6.2 billion in July from a revised $2.6 billion a month earlier.
"China provided some relief to global markets," Hersz Ferman, an economist at brokerage Elite Corretora, said from Rio de Janeiro. "However, there are still too many uncertainties out there, and the scenario for Brazil itself is very discouraging."
Bear Market
Brazilian shares entered a bear market on Friday, after falling more than 20 percent from their May peak, as President Dilma Rousseff struggles to revive an anemic economy amid a sweeping graft scandal engulfing the state-run oil producer and interest rates at a nine-year high. The slide deepened on Monday as speculation China's economy would slow further sparked a plunge in global equity markets.
The Ibovespa rose 0.5 percent to 44,544.86 at the close of trading in Sao Paulo, after jumping as much as 2.8 percent. The real declined 1.8 percent to a 12-year low of 3.6169 per dollar, the most among 16 major currencies tracked by Bloomberg. Swap rates, a gauge of expectations on interest-rate moves, increased 0.14 percentage point to 14.21 percent on the contract maturing in January 2017.
Stock Valuation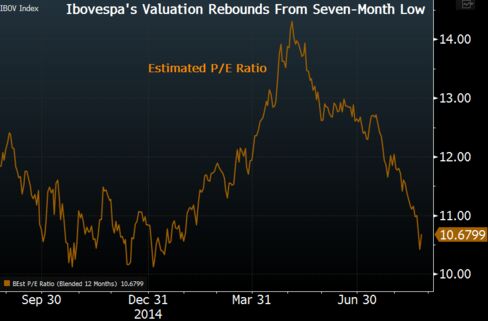 The stock gauge traded at 10.5 times estimated earnings, rebounding from the lowest valuation level in seven months, according to data compiled by Bloomberg. While the Ibovespa's multiple is almost in line with that of a measure of emerging-market equities, it's 11 percent below the average of the past 12 months.
Nine out of 10 groups in the MSCI Brazil index gained as energy shares surged. State-controlled oil producer Petroleo Brasileiro SA climbed as a rally in crude improved the outlook for its offshore investments. Brewery Ambev SA contributed the most to the Ibovespa's advance.
Levy's Remarks
Brazilian stocks also rose after Finance Minister Joaquim Levy responded to speculation that he was leaving his post by saying that he isn't going anywhere. He has proposed a series of measures to improve the country's financial accounts and avoid a credit rating downgrade to junk.
"The idea that he could leave got many traders scared," Fernando Goes, an analyst at brokerage Clear Corretora, said from Sao Paulo. "It's good to know that he will stay."
Doubts about Rousseff's ability to push new laws through Congress were raised again as local newspapers reported that Vice President Michel Temer told her that he'll scale back his role as the government's main political coordinator.
The currency erased earlier gains after Brazil's Central Bank said the country posted the widest current-account deficit for a single month since April.
"That is bad data on top of all the bad news coming out of Brazil at this moment," said Jefferson Rugik, a currency trader at Correparti Corretora de Cambio in Curitiba. "If current-account numbers deteriorate too much going forward, that could be an additional reason for rating companies to cut the country's grade."
Before it's here, it's on the Bloomberg Terminal.
LEARN MORE