At the end of a muddy track through plantations of oil-palm and cocoa on the Indonesian island of Bangka, three dozen men on wooden rafts off the beach are dredging black sand from the shallow bay.
The workers, near the village of Sungai Liat, are among hundreds of illegal tin miners on the island, the first link in a chain of trucks, smelters and fishing boats that smuggles the metal out of the country. Backed by a complex web of corruption and international payments, the dark sediment is transformed into the solder that ultimately ends up binding the electronics in everything from smartphones to cars.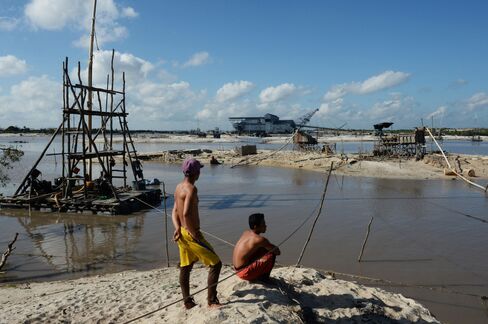 The trail begins on two islands off the coast of Sumatra in a sea channel that connects Indonesia's capital, Jakarta, to Singapore and Malaysia. These islands, called Bangka and Belitung, produce more than 90 percent of the tin in Indonesia, which is the world's biggest exporter of the metal.
Most of that production comes from mining companies such as PT Timah, the world's third-largest producer. Pits those operators abandoned and more marginal deposits are worked illegally by men and children using diesel-powered equipment on floating platforms off remote stretches of coast, or with high-pressure hoses on land. Unlicensed and unregulated, the work is dangerous and deaths from collapsed mines are common.
Illegal Work
The illegal operators attracted the attention of President Joko Widodo, who vowed to put an end to the practice days after visiting Bangka on June 21.
Failure to do so is harming the government's ability to effectively tax one of its major export industries and is undermining the global tin price, which has been hit hard by falling demand from China and increased supplies from mines in Myanmar. The price of tin, also used in packaging, has fallen by more than a third in the past year and has lost more than half its value since its peak in 2011.
"Tin prices have been low because of an oversupply, partly as a result of an increase in illegal tin exports from Bangka Belitung," the president, known as Jokowi, said on June 25. Bangka's governor and the province's tin smelters must work together to manage the mining, he said.
This month, the trade ministry banned domestic users of tin from buying from anywhere except the Indonesia Commodity and Derivatives Exchange, or ICDX, following a similar edict for exporters in 2013. The new rules, signed by the Trade Minister in May, also require shippers to obtain a clear certificate of origin for their ore.
Tin Exports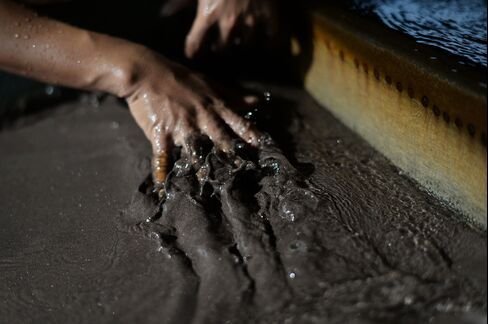 "So far, exports from Indonesia to China don't seem to have reduced much," said Cui Lin, chief China representative in Beijing for ITRI Ltd., a research company based in St. Albans, England. "We need time before we can say that the policy is working."
Indonesia exported 39,358 tons of refined tin in the first half of 2015, down from 41,472 tons a year earlier, according to Trade Ministry data, which doesn't count smuggled metal or ore.
Meanwhile, Myanmar is shipping record amounts of tin ore to China. Global production of refined tin will climb 3.3 percent this year compared with a 2.5 percent gain in consumption, according to Societe Generale SA.
"Better control of illegal mining can be a win-win strategy for Indonesia that could boost global prices and export earnings," said Peter Kettle, head of research at ITRI, which is funded mainly by producers and smelters. "The personal involvement of Jokowi might mean a change of approach in future."
Government Control
Government efforts to increase control of the industry go back to at least 2002, when then President Megawati Soekarnoputri outlawed exports of tin ore. Her successor, Susilo Bambang Yudhoyono, followed up with more regulations, including a crackdown on illegal mines and smelters in 2006 and 2007.
None of those efforts succeeded in deterring the illegal miners. Bangka Deputy Governor Hidayat Arsani said low prices and tighter regulations just encourage more smuggling.
"People will seek a way to get easy money with so many regulations and the complicated process to get an export permit," said Hidayat, a former president of the Indonesian Tin Mining Association, in Pangkalpinang, Bangka's largest town. "The rules are designed to shut the loopholes but the fact is that loopholes still exist. Maybe one or two smuggling attempts are caught, but many more escape."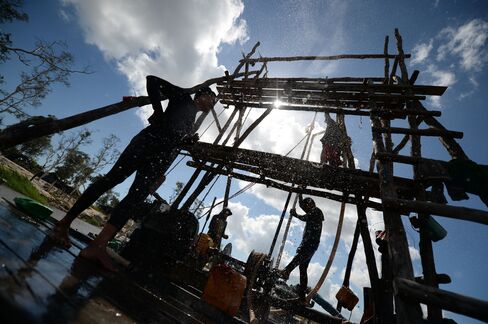 Tin is a way of life on Bangka and Belitung. The metal was discovered here at the beginning of the 18th century and rapidly became a mainstay of the economy. Today, the metal accounts for about 70 percent of Bangka's economy, with most of the rest coming from plantations, fishing and trade, Hidayat said.
Family Land
The people of Bangka need tin to put food on the table, said the owner of the offshore mines at Sungai Liat, who spoke on condition of anonymity because his business is illegal. Sitting in a shack by the beach wearing a Playboy T-shirt and jeans, the 35-year-old said prices have fallen as much as a third in the past six months.
He runs seven traditional wooden dredging platforms, with five workers on each, in an area officially licensed to Timah. He said it's his land, even though he has no title, because his family has been here for generations.
Timah's President Director Sukrisno said the company has formed partnership programs with about 5,000 onshore miners in an effort to control work on its concessions.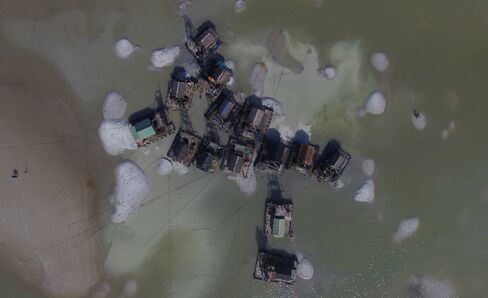 "The problem is with the offshore ones," Sukrisno said by phone. "Because of the equipment they use, the environmental effects and safety issues, the mining office cannot allow us to work with them legally." He said there were 1,640 floating platforms as of December, and Timah was meeting with the Energy and Mineral Resources Ministry to try to find ways to allow the miners to work with Timah lawfully.
Like Gambling
The mine owner in Sungai Liat said workers typically earn about $7 a day digging ore from the shallows. Profits are uncertain as prices have dropped and ore grades vary from one day to the next.
It's like gambling, he said. If you're lucky, you can earn enough in a month to buy a motorcycle. If not, you could lose everything, even your house, he said.
For some, the cost is even higher. Two teenagers were killed on June 11 while digging for tin in an abandoned mine near the village of Bukit Intan, said village secretary Roy Ronaldi. The 17-year-olds were in a small tunnel, known as a rat hole, when the walls collapsed and buried them. Ten days later a landslide at another illegal mine killed a digger in Pemali village.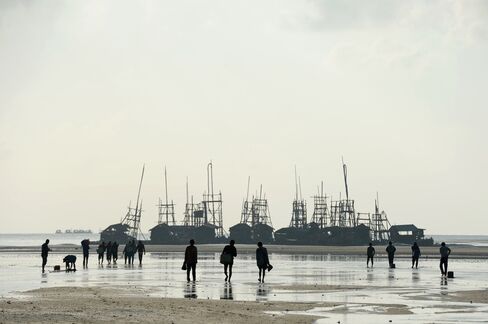 At least 83 miners were killed in licensed and unlicensed mines in Bangka-Belitung in 2013, according to Jakarta-based environmental group Walhi.
Part of the profits from the mines goes to the landowner and part to a boss, who deals with the authorities, the people involved in the industry said. The miners are paid by a collector, who usually comes about once a week to pick up the ore.
Fishing Boats
Some is taken to fishing boats in the next step of the operation. Bangka and Belitung have hundreds of small jetties, many in isolated areas, where contraband can be picked up.
The tin is loaded onto the fishing boats in bags and taken out to sea, where the cargo is transferred to a bigger vessel, according to three people with knowledge of the activities. From there, it's shipped to ports such as Kuantan in Malaysia, Singapore or to Thailand, the people said.
Malaysian Flag
On a routine night patrol on June 3, sailors from an Indonesian navy ship found an abandoned boat off the northeast coast of Bangka. On board, they found 5.6 tons of tin ore, enough fuel to power the wooden vessel for a week, and a Malaysian flag, said Bangka Belitung Navy Base Commander Colonel Hendra Kusuma.
"It was an attempt to smuggle tin ore from Bangka Belitung," Kusuma said on June 12. "They would switch flags when they entered Malaysian waters."
The rendezvous at sea was arranged by radio, with as many as 10 boats bringing ore from different places, said a former smuggler, who used to ferry ore from a jetty behind his house. The collectors are paid about double the official price once the ore grade has been checked at the destination, he said.
Pays Cash
The money is transferred from Singapore to an agent on Indonesia's Batam island, who withdraws cash to pay the smugglers, he said in an interview in his five-bedroom home on Bangka.
Some ore from the mines is refined in local smelters on Bangka and shipped as refined ingots.
Indonesia has at least 40 registered tin exporters, including Timah, according to the Trade Ministry. Ore is washed until it is at least 70 percent tin, and then heated in a furnace at 1,000 degrees Celsius to make ingots, said Timah's Secretary Agung Nugroho. The refined metal is mixed with silver or copper to make solder for electronics.
Some of the island's furnaces also refine illegal ore, said an official at a smelting company, who asked not to be named because it would affect his job. He said he had previously been involved in the business by dealing with the police and authorities.
Nugroho said Timah requires contractors and suppliers to ensure all its ore comes from licensed sources.
Raid Warnings
Bangka Belitung Police Chief Brigadier General Gatot Subiyaktoro said he's tried to clean up corruption in the force since he took over in early 2014.
"It has been reduced," he said in an interview in Pangkalpinang. "We will prosecute any officer who is still backing the smugglers." The police handled 147 illegal mining cases in 2014, he said.
Jason, 25, who works in an unlicensed offshore mine near the village of Air Anyir, said his boss tells them when the police are coming.
"He warns us: Don't work tonight, or lay low for a few days because there will be a raid," said Jason, who only uses one name. "If it's all clear, he will tell us to go back to work."
Jason said he's been working the mines for five years now, sleeping during the day and working at night.
"I feel like a vampire, or a bat," he said. He quit school after junior high to help support his three younger brothers and sisters and said there are no other jobs for him on the island that would pay enough to look after his family.
"Tin has been and will always be the mainstay of Bangka's economy," said Azwari Helmi, a lawmaker in Bangka. "Tighter regulation will only spur more smuggling."
Before it's here, it's on the Bloomberg Terminal.
LEARN MORE