Venezuela Socialist Alliance Sees Support Fall Below One in Five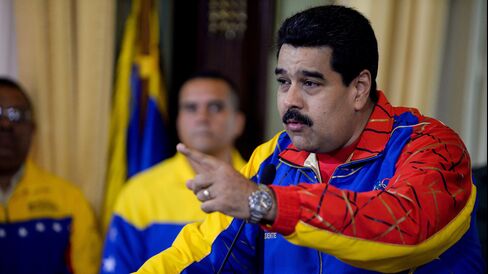 Support for Venezuela's ruling Socialist coalition slipped below one in five this month in the build up to the Dec. 6 congressional elections as the economy suffers the biggest recession outside Sub-Saharan Africa.
The United Socialist Party of Venezuela, or PSUV, and allies are backed by 19.3 percent of people, according to a poll by the Venezuelan Institute of Data Analysis, known as IVAD, between Aug. 8 and 16. The previous poll by IVAD in June had given the alliance 21 percent support.
The number of people who said they intended to vote surged to 89 percent from 67.4 percent, with more than nine in 10 Venezuelans saying the elections are important in stabilizing the economy. JPMorgan Chase & Co. expects gross domestic product to contract 8 percent this year.
Support for President Nicolas Maduro has tumbled almost five percentage points since June to 22.7 percent, with only one in five respondents wanting the former bus driver and union leader to serve until the end of his term in 2019.
Still, the opposition hasn't capitalized on discontent. Support for candidates from the opposition alliance and independents fell two percentage points to 58 percent, IVAD said. Almost a quarter of the voters remain undecided, the poll showed.
IVAD surveyed 1,200 households with a margin of error of plus or minus 2.4 percent. A July poll by rival Caracas pollster Datanalisis put PSUV candidate's support at 19.2 percent.
Before it's here, it's on the Bloomberg Terminal.
LEARN MORE