Turkey Heads to Polls Amid Risk of Another Hung Parliament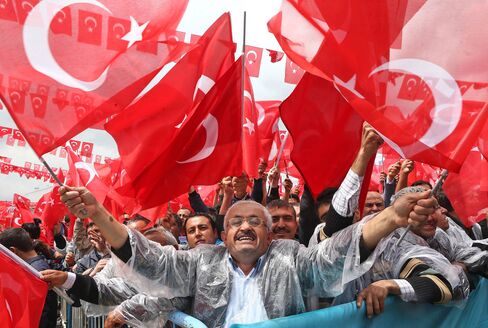 While Turkey's ruling AK Party seeks to recapture its single-party government in new elections in the fall, opinion polls indicate the possibility of another hung parliament.
Turks will head to the ballot box again after the party co-founded by President Recep Tayyip Erdogan lost its parliamentary majority for the first time since 2002, then failed to form a coalition within the 45-day period allotted by the constitution. After the deadline expired at midnight, Erdogan is expected to declare new elections following his meeting with Parliament Speaker Ismet Yilmaz on Monday.
Opinion polls show that a new election may not deliver the strong mandate the AK Party is seeking, a development liable to thrust Turkey into even greater political and economic turmoil. A Gezici Arastirma survey published Aug. 4 showed support for AKP at 41.9 percent, while Ankara-based pollster ORC said in an Aug. 7-9 poll that AKP would win 44.1 percent. The party won 41 percent in June.
"An early election is expected at the beginning of November, meaning that political unrest will continue in the coming months," Hakan Aklar, an Istanbul-based economist at Ak Yatirim, said in an e-mailed note on Monday.
A second inconclusive ballot would be followed by a new round of coalition talks. The AKP, which won 258 of parliament's 550 seats in June, would need at least 276 to form a single-party government.
Ozer Sencar, head of MetroPOLL Strategic and Social Research, told Bloomberg in Ankara on Aug. 17 that it is "almost impossible" for AKP to win a simple majority if the pro-Kurdish HDP party enters parliament again. HDP won 13 percent of the vote in the last election.
Rewrite Constitution
On Friday, Erdogan said the new balloting would take place Nov. 1, although the date will officially be decided by the Supreme Election Board. It will be the first time Turkey's president, rather than parliament, will call elections.
Erdogan led the AKP for more than a decade before becoming president in August 2014, delivering economic growth averaging 5 percent annually. He wants to rewrite the constitution to shift power from the parliament to an executive-style presidency, something June's inconclusive election prevented.
HDP's showing in June helped to deny AKP the power it sought to transform Erdogan's office into the nation's power center. Rising nationalist rhetoric and spreading conflict with Kurdish rebels in Turkey's southeast haven't dented support for the HDP, according to two opinion polls published over the past month that put the party at 12.8 percent and 14.1 percent.
The current political uncertainty and surge in violence have roiled markets since June.
Investment Deterrent
Political instability delays and deters investment, putting Turkey's accomplishments over the past dozen years "at risk," Finance Minister Mehmet Simsek said Sunday, according to NTV television.
The currency depreciated as much as 2.3 percent to 2.9865 per dollar on Monday, before recovering partly to 2.9557 at 13:56 p.m. in Istanbul. The lira is the third-worst performing currency in emerging markets this year.
The yield on Turkey's two-year government debt has soared more than 3 percentage points this year to 11.25 percent on Monday, the biggest increase among major markets worldwide.
Before it's here, it's on the Bloomberg Terminal.
LEARN MORE