Staples Deal Draws U.S. Queries About Corporate Customer Harm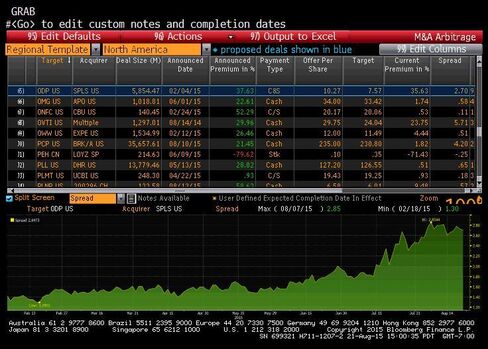 U.S. antitrust officials examining Staples Inc.'s planned takeover of Office Depot Inc. are zeroing in on the sale of office supplies to large corporate customers, according to three people familiar with the matter.
While consumers can pick up paper and pens anywhere, there are fewer suppliers that can serve companies that buy products in large quantities and depend on contracts that ensure steady deliveries and discounted prices.
The Federal Trade Commission, which sees numerous options for retail consumers, is scrutinizing whether the merger will harm competition for corporate clients as the review enters the final stages, said the people, who asked not to be named because they weren't authorized to speak publicly.
"We see a lot of reasons to doubt whether there are any other competitive alternatives out there," said Randy Stutz, the associate general counsel for the American Antitrust Institute, a Washington-based group that advocates for competition enforcement.
The Staples deal will leave just one national office-supply retailer that would control as much as 80 percent of the market for large corporate accounts for high-volume products such as paper, according to an estimate by Cleveland Research Co. Staples alone serves about 65 percent of companies on the Fortune 100 list, according to its website.
The question is whether rivals like Amazon.com Inc., which sells office supplies to corporate customers through its Amazon Business channel, can keep a bigger Staples in check, said Jennifer Rie, an analyst at Bloomberg Intelligence. Meanwhile, regional suppliers like W.B. Mason may be able to bulk up if the FTC requires Staples to sell assets as a condition of approving the tie-up, one of the people familiar said.
The FTC and Office Depot declined to comment. Spokesmen for Staples, W.B. Mason and Amazon didn't respond to requests for comment.
Investors have grown increasingly skeptical that the deal will close. The difference between Office Depot's stock price and what Staples promises to pay shareholders when the deal closes has widened to 38 percent from a low of 13 percent in February, according to data compiled by Bloomberg.
The FTC opened the door to Staples' takeover in 2013 when it approved Office Depot's purchase of OfficeMax, saying competition from big-box chains and Amazon would maintain choice for retail customers. In the market for contract clients, the enlarged Office Depot would still face competition from Staples and W.B. Mason, the FTC said at the time.
Staples "was a big factor in allowing the Office Depot and OfficeMax deal to go forward," said Rie, the Bloomberg Intelligence analyst. "We're now removing Staples from the equation. There needs to be some replacement."
Staples Chief Executive Office Ronald Sargent told analysts on Aug. 19 that Amazon's move into sales to businesses represented a "significant threat." The company is responding to the FTC's requests for information and is on schedule to close at the end of the year, he said.
Stutz at the antitrust institute countered that Amazon isn't a realistic alternative for large companies buying under contract.
"If Staples and Office Depot are the only two companies capable of serving these large customers, and there are no other alternatives out there that would discipline the merged firm in order to prevent a price increase post-merger, you get a very serious competitive problem," he said.
Before it's here, it's on the Bloomberg Terminal.
LEARN MORE