RBA Gets Dragged Toward Reluctant Rate Cut by Global Market Rout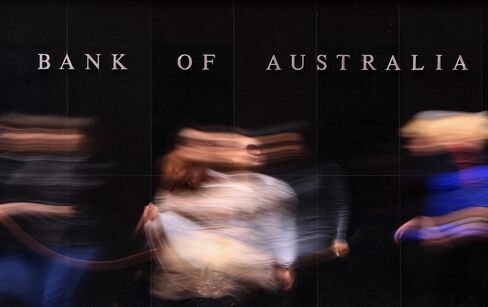 Swaps now show a reduction this year more likely than not

"If a rate cut is required they will deliver it": Nomura
Just when the Reserve Bank of Australia was signaling it might not have to ease policy any further, the world got uglier.
As global markets tumbled over recent days, swaps traders priced in about a 67 percent chance the RBA will cut its cash rate from a record low 2 percent by year-end, up from about 39 percent a week ago, data compiled by Bloomberg show. Traders spent the first half of August paring expectations for more stimulus after the central bank dialed back language on currency strength and said domestic economic activity had generally been more positive.
With concern that the slowdown in China's economy will hurt growth Down Under and commodity prices under pressure, expectations the RBA would reduce borrowing costs sent the yield on Australia's benchmark three-year note down to within eight basis points of an all-time low. The Aussie dollar dropped to levels last seen in 2009.
"The RBA through their most recent monthly press release and the quarterly statement seem quite comfortable with the cash rate at its current level and seem reluctant to want to lower it further,'' said Andrew Ticehurst, a Sydney-based interest rate strategist at Nomura Holdings Inc. "Ultimately they will be very pragmatic as they always are, and if a rate cut is required they will deliver it.''
Plunging Yields
Ticehurst, the only forecaster surveyed by Bloomberg with a perfect record on RBA rate decisions this year, reckons a rate cut is more likely than not and that it's most likely to happen in November.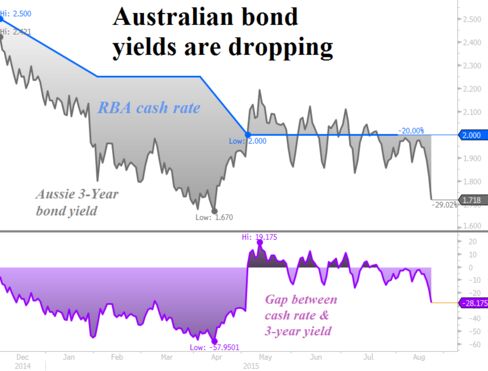 The yield on the three-year Australian government bond was 1.76 percent as of 3:30 p.m. in Sydney on Tuesday, after touching 1.69 percent on Monday, while the Aussie dollar this week dropped as low as 70.50 U.S. cents. The implied RBA cash rate in a year's time fell to 1.64 percent on Monday, the least since April, based on swaps data compiled by Bloomberg.
The outlook for China, Australia's largest trading partner, has taken a battering over recent weeks with worsening economic data and signs of capital outflows undermining unprecedented government attempts to shore up the country's stock market. Economic growth slowed to 6.6 percent in July, according to Bloomberg's monthly gross domestic product tracker, while a private measure of manufacturing fell to 47.1 in August, the lowest since March 2009.
Slower Growth
Australian economic growth probably slowed to 2.2 percent in the second quarter of this year from 12 months earlier, according to the median estimate in a Bloomberg survey of economists. The country's statistics bureau is due to release gross domestic product data for the period on Sept. 2, the day after the RBA's next policy announcement.
"There has to be more monetary easing coming from the RBA via rate cuts,'' said Chidu Narayanan, Asia economist at Standard Chartered Plc, noting that he didn't see much extra support coming from either budgetary policy or currency depreciation.
The decline in commodity prices is a "worry'' and "domestic demand has also remained weak,'' said Narayanan, who predicts a quarter-point rate cut by year-end and an additional reduction early in 2016.
One factor that has weighed against further monetary easing has been the housing-market boom in Sydney, Australia's largest city. RBA Deputy Governor Philip Lowe this month warned that property-price increases without similar income gains could pose a danger to the economy. The RBA could become more comfortable with the prospect of cutting again if there are signs of moderation in the sector, Nomura's Ticehurst said.
Fed Risks
The most recent bout of global market volatility is also adding to the risks associated with a potential tightening of policy from the Federal Reserve.
Investors' doubts that the Fed will tighten policy for the first time since 2006 have been fueled by a rout that erased more than $5 trillion from the value of global equities since China unexpectedly devalued the yuan, and sent commodity prices to a 16-year low.
Any delay could put upward pressure on the Australian dollar, while a decision to go ahead could exacerbate tensions in global markets.
"The biggest theme in the market at the moment is probably global growth concerns and uncertainty about China and the Fed in this environment,'' said Nomura's Ticehurst. "The balance of recent Chinese growth data has been a little softer, market volatility has risen, equity markets are weaker and credit spreads are wider. That altogether implies that financial conditions are a bit tougher. That's something which adds to the possibility of a rate cut'' from the RBA.
Before it's here, it's on the Bloomberg Terminal.
LEARN MORE