Rajan Doubles Down on India Inflation Fight as Stocks Plunge
Central banks shouldn't give `booster shots' to markets

India avoiding `seat-of-the-pants' approach to monetary policy
Equity investors looking for sympathetic central bankers should avoid the Reserve Bank of India.
As the rupee fell to the lowest in two years and investors dumped Indian stocks, central bank Governor Raghuram Rajan on Monday doubled down on his inflation fight. He said rate cuts weren't "goodies" that come after public pleading, and central banks shouldn't give "booster shots" to falling stock markets.
All in all, Rajan's speech amounted to the strongest defense yet of his monetary policy, which has drawn increasing criticism from India's Finance Ministry. And it came after a stretch in which more than $5 trillion has been erased from the value of global equities since China unexpectedly devalued the yuan on Aug. 11.
"The aim is not to throw money at every market move that isn't going your way," said Jyotinder Kaur, an economist with HDFC Bank Ltd. in Gurgaon, near New Delhi. "China can with $3.7 trillion of reserves. We can't."
Rajan said India is in a "good position" compared with emerging-market peers, and is betting that low inflation will attract investors when things calm down. The S&P BSE Sensex index rebounded on Tuesday morning, gaining 1.3 percent, while the rupee strengthened 0.2 percent.
Here are Rajan's main responses to his critics:
Hefty Reserves
Rajan says he's built up India's foreign exchange reserves since he took over the central bank in September 2013. The central bank has about $380 billion and "will have no hesitation" using it to smooth volatility in the rupee, he said.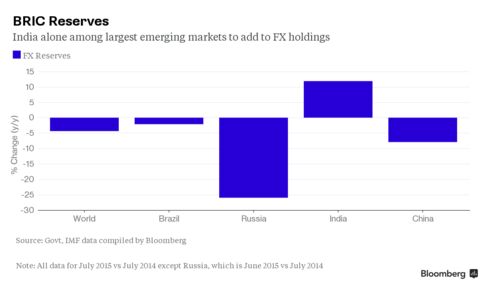 Savers Benefit
Negative real interest rates in the past prompted households to buy gold instead of putting their money in the bank. Now rates are positive again, encouraging savings that make India less vulnerable to capital outflows.
CPI vs. WPI
Concerns that the consumer price index (the central bank's main gauge since last year) and wholesale prices (previously the benchmark) are diverging are "overblown," Rajan said. Since all companies benefit from lower input costs, profits may be the true measure of inflation rather than output prices.
"The only way to tackle it is to get inflation of all kinds down," he said.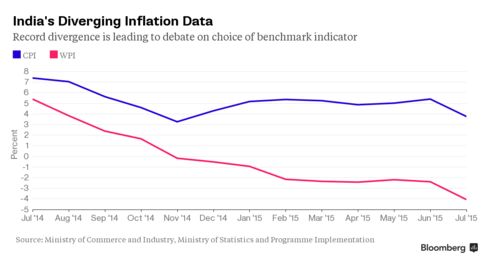 Base Effects
Consumer price inflation unexpectedly slowed to 3.78 percent in July, below Rajan's 6 percent target for January. Even so, analysts who call for rate cuts based on a few data points often fail to consider base effects, Rajan said, adding that policy moves take as many as four quarters to sink in.
To ensure prices stay under control, Rajan said, the central bank is using inflation forecasting models instead of a "seat-of-the-pants approach."
Before it's here, it's on the Bloomberg Terminal.
LEARN MORE