Osborne Says U.K. Economy Vulnerable to China Market Fallout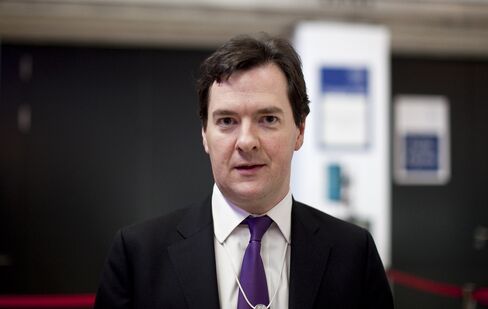 Chancellor of the Exchequer George Osborne said the U.K. economy is vulnerable to international shocks as concerns about a slowdown in China caused stock markets across the world to tumble.
"Everyone is concerned about the situation on the Asian financial markets," Osborne told reporters in Helsinki on Monday after meeting with Finnish Finance Minister Alexander Stubb. "I would take it as a reminder that we are not immune from what happens in the world."
Osborne's comments underline a growing unease among investors and policy makers as a sell-off in China's stock market spreads globally, sparking concern about the potential impact on the world economy. Chinese shares tumbled the most since 2007, commodities fell to a 16-year low and emerging-market currencies weakened to a record.
Speaking at a joint press conference with Swedish Finance Minister Magdalena Andersson in Stockholm later the same day, Osborne said that while there was "a real concern" about the volatility in Europe caused by China, its effects wouldn't be immediate.
"I am reasonably confident, although I don't think that we can be unaffected by what goes on in China, I don't think it's going to cause immediate sharp problems in Europe," said Osborne. "The issue is the growth in China's economy" and "that's the area we should focus on."
'Next Crisis'
The U.K.'s benchmark FTSE 100 Index followed Asian stocks lower, and was down 5.3 percent as of 2:18 p.m. in London.
In Helsinki, Osborne said the Chinese authorities were doing "all they can to stabilize those markets."
Osborne, who is on a tour of Scandinavia to seek support for the U.K.'s push to reform the European Union ahead of a planned referendum on Britain's membership of the bloc by end-2017, said the situation highlighted the importance of other countries "keeping their own house in order."
"You don't know where the next crisis is coming from, where the next shock is going to come from in the world," he said. "Britain is a very open economy, probably the most open of the largest economies, and we are affected by what happens, whether it is problems in the euro zone, problems in Asian financial markets."
Before it's here, it's on the Bloomberg Terminal.
LEARN MORE