Menendez Bribery Prosecutors Deny They Engaged in Misconduct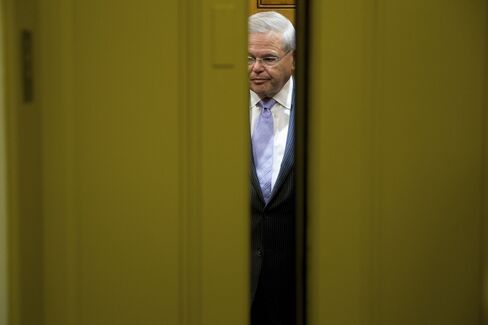 The Justice Department's corruption probe of U.S. Senator Robert Menendez began with "serious and specific allegations into child prostitution" that turned out to be unproven, prosecutors said in a court filing.
Menendez, a New Jersey Democrat, wasn't charged on the basis of unfounded claims that he and a campaign donor had sex with underage prostitutes in the Dominican Republic. Rather, the investigation uncovered corruption involving the New Jersey Democrat and the donor, a Florida eye doctor who sought his help in disputes with the government, prosecutors said.
"The government has an obligation to take such allegations regarding potential harm to minors very seriously, regardless of who the alleged perpetrators may be," prosecutors said.
Menendez was charged April 1 with accepting gifts and campaign donations from the doctor, Salomon Melgen, who was also indicted. The U.S. defense of its investigative techniques came in one of seven filings Monday that responded to requests by Menendez and Melgen that a judge dismiss their indictment.
Prosecutors say that the senator intervened to help Melgen in a Medicare overbilling case, a contract dispute with the Dominican Republic and visa applications for three girlfriends. Both men deny wrongdoing and face an Oct. 13 trial in federal court in Newark, New Jersey. Melgen was indicted separately on health-care fraud charges in Florida.
Menendez was useful to Melgen "precisely because of his power as a United States senator -- and because of his ability to use the power of that office to influence executive agencies" in the doctor's favor, according to one of the filings.
Government Misconduct?
The dismissal requests filed July 20 by the lawmaker and Melgen accused prosecutors of misconduct and an FBI agent of perjury. Menendez said the investigation began before his 2012 re-election with "unfounded, salacious" rumors from a mysterious "Peter Williams," and prosecutors should have probed him instead.
While those rumors couldn't be verified, some eyewitnesses described a party with prostitutes at Melgen's Dominican villa, which the doctor attended, according to the filing by the Justice Department's Public Integrity Section. Those prosecutors consulted with the department's Child Exploitation and Obscenity Section during the investigation.
Defense lawyers object to the prosecutors' reliance on grand jury testimony by Melgen's pilot, who said "young girls" who looked like escorts traveled on the doctor's private jet.
"The government cannot ignore this testimony merely because it appears inflammatory," the U.S. wrote.
Perjury Claim
Menendez's lawyers claimed Federal Bureau of Investigation agent Gregory Sheehy perjured himself eight times before the grand jury.
The testimony in six of those instances was "truthful and corroborated by witness statements and numerous grand jury exhibits," a seventh is "indisputably true" and the eighth instance involved a typographical error by a court reporter, according to one of the government's filing.
Defense lawyers objected to grand jury testimony by three of Melgen's girlfriends and three of Menendez's girlfriends, calling it irrelevant and prejudicial. But prosecutors defended their tactics, saying they were "direct witnesses to the corrupt relationship" between the men.
"Part of the corrupt exchange" involved Menendez using his office to help Melgen bring his foreign girlfriends into the United States, and the doctor using his wealth to help the senator "take his American girlfriends on exotic overseas vacations," according to the filing.
Speech or Debate
Prosecutors disputed Menendez's use of the Constitution's Speech or Debate Clause, which courts have interpreted to mean lawmakers can't be prosecuted for legislative acts.
That clause "does not provide United States Senators with a constitutional right to accept bribes," prosecutors said.
The Justice Department urged a judge to deny Melgen's request to exclude evidence beyond extensive medical records seized during a January 2013 raid of his offices in Florida.
Agents found a 168-page black notebook with references to Menendez, as well as business contacts and various women, the U.S. said. They also found "professional photographs of young women, many of whom posed in lingerie." Prosecutors said agents took the proper steps to conduct the raid legally.
Lawyers for Menendez and Melgen on Monday said they subpoenaed documents from the Central Intelligence Agency, the State Department and four other agencies. In a two-page filing, defense lawyers said they also sought records from the Department of Health and Human Services, the Department of Homeland Security, Customs and Border Protection and the Commerce Department. They didn't explain what they sought.
The case is U.S. v. Menendez, 15-cr-00155, U.S. District Court, District of New Jersey (Newark).
Before it's here, it's on the Bloomberg Terminal.
LEARN MORE