Kim Jong Un Can't Take Credit for Roiling South Korea's Markets
The selloff in Seoul has much more to do with China than the Hermit Kingdom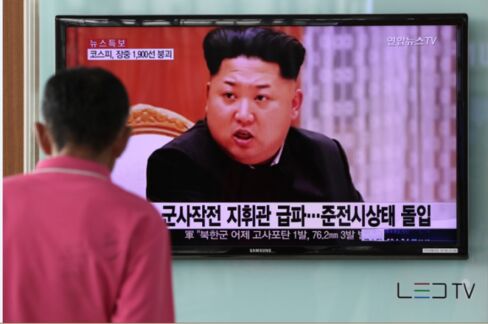 Kim Jong Un would have you believe that North Korea's declaration of "a semi-state of war" sent its neighbors in a blind panic, stocking up on ramen and fleeing the country to escape conscription.
The latest round of tensions between the two countries are only partly to blame for the turmoil in South Korea's financial markets. It's China's economic policies rather than Kim's temper that is increasingly dictating the direction of the won and equities in Seoul.
The chart below shows how the benchmark Kospi stock index has responded in the last decade to notable North Korean provocations. Far more significant is the correlation with Chinese imports, showing South Korea's growing dependence on trade with the world's second-biggest economy.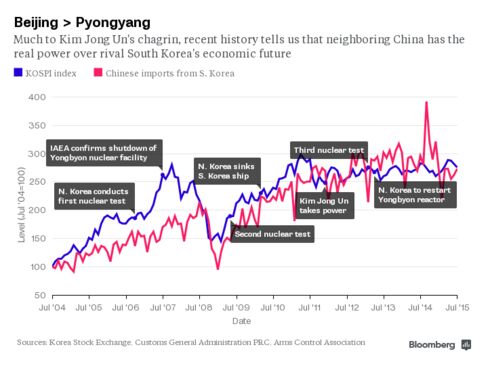 "Real economic and financial linkages between South Korea and China are much stronger than the intermittent escalation in Korean peninsular tensions," said Mike Moran, head of economic research at Standard Chartered Plc in New York.
The Kospi's retreat coincided with a new round of hostilities and has much more to do with the dramatic slowdown in China, South Korea's biggest trading partner, according to Emma Dinsmore, chief executive officer of R-Squared Macro Management LLC in Birmingham, Alabama.
While Kim's 2011 ascension to the throne of the Hermit Kingdom did make South Korea's geopolitical risk profile higher than it was under his two predecessors, markets view him as having cried wolf one too many times.
"The probability of a war is diminished because Kim Jong Un has kind of done this before," Dinsmore said. "The very fact that he's all over the place diminishes his credibility for the markets."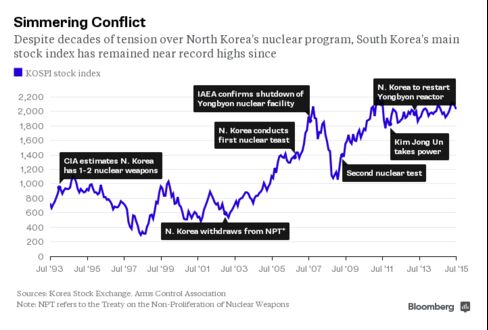 Before it's here, it's on the Bloomberg Terminal.
LEARN MORE