Global Selloff Puts a Record Year for Dealmaking Under Threat
Takeovers may slow down as rout erodes executives' confidence

Deals with big stock component now less attractive: Analyst
The global stocks selloff could find its next victim in this year's booming market for mergers and acquisitions.
Dealmaking activity, which was on track to pass $3 trillion this year and potentially surpass 2007's record, may slow down as the wave of selling erodes executives' confidence in pursuing growth via M&A or initial public offerings. Deals with some stock component, which account for more than half of all pending takeovers, could be particularly at risk.
"The huge stock market selloff and concerns about China's actual growth rates will likely have an adverse effect in forthcoming M&A deals and IPOs," said Richard Cranfield, a partner at law firm Allen & Overy LLP in London, who is also global chairman of the firm's corporate practice and co-head of its financial institutions group, in a telephone interview. "Those deals that are being negotiated but aren't public yet will become vulnerable."
As companies' stock market valuations fluctuate, all-share proposals -- or those expected to be paid for predominantly with stock -- may be most vulnerable.
Several large all-stock deals have been announced or proposed this year but not yet completed. Shire Plc has offered 0.1687 of its American depositary receipts for each share of Baxalta Inc. in a $30 billion takeover bid, while Royal Ahold NV agreed in June to acquire Delhaize Group for about 9.32 billion euros ($10.8 billion) in shares.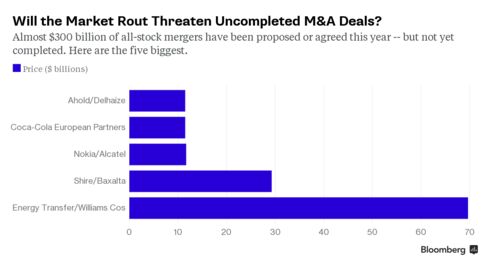 "Cash is king," Gilles Maggiorani, a special situations analyst at United First Partners in London, said in a telephone interview. "Investors want to minimize their market exposure and are increasingly asking for collars to limit their potential downside on offers with high stock components."
Delaying Deals
Shares succumbed on Monday to a global selloff that's wiped more than $5 trillion off the value of equities around the world since China's shock currency devaluation on Aug. 11. European stocks had their worst day since 2008, while the Standard & Poor's 500 Index dropped 3.9 percent, entering its first correction in nearly four years.
Dealmakers will be hoping the volatility is temporary. A longer selloff could affect valuations, hampering negotiations and delaying deals in the short term, according to George Casey, partner and head of the global M&A group at law firm Shearman & Sterling LLP, based in New York. "A volatile equities market may also affect the level of confidence that buyers have shown this year," Casey said in a phone interview.
Companies planning to sell shares on the stock market are already being hit. Medical technology firm Raindance Technologies Inc. said Monday it has withdrawn an IPO registration it filed in February, citing market conditions. A sustained slump in Chinese equities could halt plans by state-owned conglomerate Citic Ltd. to list some of its units, according to Chairman Chang Zhenming.
Even the biggest deal of the year could be impacted. Royal Dutch Shell Plc agreed in April to buy BG Group Plc for about 47 billion pounds ($74 billion) in cash and stock, making Europe's largest oil company the pre-eminent player in global natural gas and adding fields in Brazil. Shell's shares fell as much as 11 percent on Monday because of concern oil prices will remain depressed amid the emerging market retreat.
Wide Spreads

Acquisition targets globally are trading an average 15 percent below their offer prices, data compiled by Bloomberg show. That excludes deals with negative spreads brought on by investors predicting bidding wars. A wide spread -- usually greater than 5 percent -- signals concern that a deal could get derailed, whether it be by regulators or poor market conditions.
Even among the rout, deals are still getting done. Southern Co., the third-largest U.S. utility owner, agreed Monday to buy natural-gas distributor AGL Resources Inc. for $8 billion in cash. Meanwhile Belk Inc., the 127-year-old department-store chain concentrated in the southern U.S., agreed to be acquired by Sycamore Partners for about $2.7 billion -- also an all-cash deal.
And U.S. agro-chemical giant Monsanto Co. raised its offer for Syngenta AG to about $47 billion, according to people with knowledge of the situation. The new bid includes a higher proportion of cash than the prior offer, which envisioned a split of 45 percent cash to 55 percent Monsanto shares.
Still, Monsanto's efforts could be further complicated by the market turmoil, with the buyer's stock down 20 percent since the beginning of the the year.
Before it's here, it's on the Bloomberg Terminal.
LEARN MORE