German Power Slumps Below 30 Euros as EON, RWE Fall to Records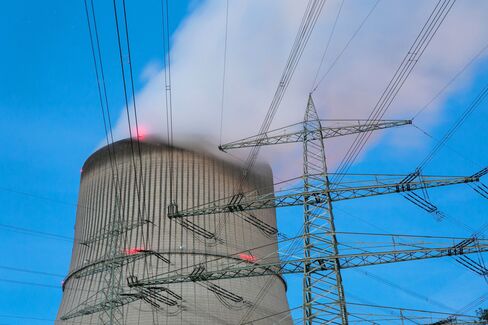 German power prices sank below 30 euros ($34) a megawatt-hour for the first time in more than a decade, signaling more pain for utilities from EON SE to RWE AG, already trading at record lows.
Electricity for year-ahead delivery, a benchmark European contract, fell 2.1 percent to its lowest level since October 2003. EON, Germany's biggest utility, declined 8.6 percent, the most since November 2012, while RWE dropped 9.1 percent, the biggest slump since August 2011.
Next-year power in Europe's biggest market is headed for a fifth annual drop as Chancellor Angela Merkel's unprecedented shift toward an economy based on renewable energy boosts output of solar and wind electricity to record and squeezes generation from traditional coal and gas plants. Until now, the 30-euro level was a psychological barrier for the year-ahead price, according to Bruno Brunetti, senior director of electricity, at Pira Energy Group in New York.
"We are approaching an unhealthy level," Omar Ramdani, head of analysis at RheinEnergie Trading GmbH in Cologne, said Monday by phone. "It wouldn't surprise me if we would trade below in the short term, but we should actually hold the 30," which is near the floor price, he said.
The contract exceeded 90 euros in July 2008, just before the financial crisis took hold of the markets. It dropped as low as 29.73 euros a megawatt-hour on Monday on the European Energy Exchange.
25 Euros
"Who says there is an end at 30 euros?" Ricardo Klimaschka, a trader at Energieunion GmbH, said by phone Monday. "Renewable generation will rise in Germany and modern hard coal plants can produce already at 25 euros. These round figures are purely psychological."
RWE and EON are the worst performers this year on Germany's DAX Index of leading shares. EON on Monday fell below 10 euros for the first time since it was formed 15 years ago and closed at 9.57 euros in Frankfurt, while RWE closed at 13.22 euros. EON dropped 33 percent this year and RWE sank 48 percent. RWE spokeswoman Vera Buecker, analysts and fund managers from Union Investment to Independent Research have attributed the decline to sliding wholesale power prices.
Georg Oppermann, an EON spokesman, pointed to the falling stock market and commodities environment, without being more specific, when commenting on the slump in shares.
"Major German power generators have already hedged large amounts of power forward, so I think the pain will be felt in the longer term," rather than immediately, Brunetti said.
Rising Renewables
Renewable energy's share of gross German power consumption increased by 2.4 percentage points last year to 27.8 percent, according to the Economy and Energy Ministry. Coal, lignite and nuclear accounted for 59 percent of German generation in 2014, according to AG Energiebilanzen e.V., an association of energy lobbies and economic-research institutes.
Some coal and nuclear plants will struggle to cover their fixed costs with power prices below 30 euros, Brunetti said.
Coal for next-year delivery fell to its lowest level since at least 2007, according to broker data compiled by Bloomberg. The fuel accounts for about 18 percent of Germany's electricity and price swings impact power prices. Brent crude plunged 57 percent in the past year in London trading.
Germany is scheduled to shut its eight remaining nuclear reactors by 2022. EON's Grafenrheinfeld plant closed on June 27, before its operating license expired, because of waning profitability amid the increase in renewable generation and a tax on nuclear fuel.
Power prices below 30 euros in Germany in the long term "would create more incentive for remaining nuclear to retire earlier than the set dates," Brunetti said.
Before it's here, it's on the Bloomberg Terminal.
LEARN MORE