Pro-Kurdish Party Eyes First-Ever Seats in Turkey's Government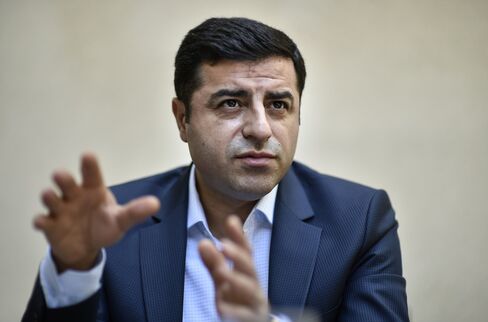 Turkey's interim Prime Minister Ahmet Davutoglu was assigned to form a provisional cabinet that will - - in a first for Turkey -- include a party he's accused of links to Kurdish rebels.
The interim cabinet will lead Turkey into new elections called after the ruling AK Party failed to form a governing coalition by a deadline Sunday. Turkey's election board set the vote for Nov. 1.
"I am calling on political leaders to shoulder the responsibility of forming a government in line with the constitution," Davutoglu said in a televised news conference Tuesday after President Recep Tayyip Erdogan assigned him to form the temporary administration.
The inconclusive June elections, in which AKP lost the parliamentary majority it had held since 2002, have thrust Turkey deeper into political and economic turmoil. Compounding the domestic problems is the steepest decline in emerging markets stocks in four years. The lira is the third-worst performing currency in emerging markets this year, retreating 20 percent.
Turkey has "entered unchartered waters, both economically and politically," said Wolf-Fabian Hungerland, a Hamburg-based economist at Berenberg Bank, in an e-mailed note Monday. "The global liquidity situation is changing, making foreign capital scarcer, and domestic politics are edging toward paralysis and instability."
Once Shunned
The interim cabinet will include lawmakers from the pro-Kurdish HDP party, once shunned over ties to the Kurdistan Workers' Party or PKK. The militant movement, branded a terrorist organization by Turkey, the U.S. and the European Union, has killed about 60 soldiers and policemen in stepped-up attacks since July.
"It's the first time that HDP members will come to occupy cabinet positions," Sinan Ulgen, a visiting scholar at the Carnegie Endowment for Intenational Peace in Brussels, by phone. "They will use this privilege in order to build up a stronger constituency for a cease-fire and peace talks."
In another first, all of Turkey's parties will be offered representation proportionate to their parliamentary strength.
The main opposition parties, CHP and MHP, have said they won't join a provisional cabinet. HDP co-chairman Selahattin Demirtas claimed three ministries for his party, based on the 6 million votes it captured.
Majority Lost
"No one can question the legality of HDP," Demirtas said in televised remarks in Ankara on Tuesday. "We will take part in this government."
HDP's June showing, equal to 13 percent of the votes, helped to deny AKP the supermajority it sought to transform Erdogan's office into the nation's power center. Since the vote, Turkey's leaders have intensified their efforts to tie the HDP to the PKK, designated as a terrorist group by Turkey and the U.S. They sent the air force to bomb the guerrillas' bases as a three-decade conflict reignited.
HDP has rejected charges of terrorism while saying the PKK is a reality.
Opinion polls suggest that new elections may result in another hung parliament, a development liable to intensify the nation's turbulence. Davutoglu said his AK Party could possibly form an alliance with smaller conservative parties including Saadet and BBP. The Turkish stock market has dropped 13 percent since June amid a global sell-off of emerging market assets.
The AKP, which won 258 of parliament's 550 seats in June, will need to command a simple majority in the next election to form a single-party government.
A survey by Gezici Arastirma published Aug. 4 showed support for AKP at 41.9 percent; Ankara-based ORC said in a Aug. 7-9 poll that AKP would win44.1 percent.
That's up from 41 percent in June, but not enough to secure an outright majority.
A repeat Turkish election is unlikely to "fundamentally change' the political situation, Hungerland said. ''We expect these unchartered waters to be much stormier.''
Before it's here, it's on the Bloomberg Terminal.
LEARN MORE