Energy Giant's Big Bet Sails Through Choppy Market: Real M&A
All-cash terms, sound price are buffer to stock tumult

Takeover helps Southern Co. in shift to natural gas from coal
On one of the stock market's most tumultuous days in years, two U.S. utility companies made the gutsy move to announce a $12 billion merger -- and they're coming out on top.
Southern Co. and AGL Resources Inc. disclosed their transaction early on Monday as overseas markets plunged, two hours before the Standard & Poor's 500 Index suffered its biggest intraday drop since August 2011 and the Dow Jones Industrial Average skidded more than 1,000 points. Both indexes later recouped some of their losses.
Southern and AGL were shielded from the turbulence because of the way they structured their deal. Southern is paying about $8 billion for AGL entirely with cash, rather than its own equity, and taking on about $4 billion of the target's debt. Even with interest rates so low, many other buyers have been favoring stock deals, which tend to carry more risk.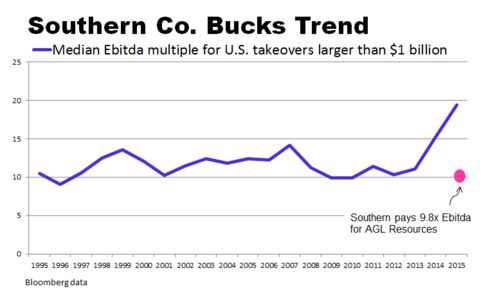 Southern's offer price also isn't rich at 9.8 times AGL's earnings before interest, taxes, depreciation and amortization. That's relatively low in comparison to most takeover valuations seen this year -- some are even double and triple that level.
AGL shares surged 28 percent to $61.41 on Monday. That's a 7.5 percent arbitrage spread, which isn't very large given Monday's market environment. Other merger spreads widened considerably to account for the added uncertainty.
Acquisition targets globally are trading an average 15 percent below their offer prices, data compiled by Bloomberg show. That excludes deals with negative spreads brought on by investors predicting bidding wars. A wide spread -- usually greater than 5 percent -- signals concern that a deal could get derailed, whether it be by regulators or poor market conditions.
Still, the rout may be temporary and not enough to slow down the record merger activity occurring this year. The U.S. stock market already narrowed its losses by Monday afternoon, with the S&P 500 ending down 3.9 percent, versus a decline of more than 5 percent earlier in the day.
Whether the market turmoil is a short-term blip or a harbinger of something bigger, it goes to show that deals with a strong strategic and financial rationale will probably continue. Southern's purchase of AGL checks both boxes. Southern, which owns electric utilities, is capitalizing on rising demand for natural gas as growth in power slows.
Before it's here, it's on the Bloomberg Terminal.
LEARN MORE