Cotton's Status as 2015 Commodity Survivor Is Under Threat
Fiber tumbles most in two years, reducing YTD rally to 6.3%

`Mass liquidation' leaves only two raw materials with '15 gain
Cotton's status as one of the only two raw materials with gains this year in the Bloomberg Commodity Index is under threat after the fiber fell on Monday by the most in two years.
On ICE Futures U.S. in New York, cotton for December delivery dropped 4.3 percent to close at 64.05 cents a pound at 2:26 p.m., the largest decline for a most-active contract since Aug. 21, 2013.
The only other market in the Bloomberg index of 22 raw materials that's still higher this year is gasoline. On Aug. 12, cotton surged 4.6 percent, the most in three years, after the U.S. government unexpectedly reduced its forecast for domestic production.
"I don't think, even if it is a bullish story for cotton, that it can sustain that type of selling pressure.," Michael Smith, the president of T&K Futures & Options in Port St. Lucie, Florida, said in a telephone interview. "We're seeing a mass liquidation of the asset class."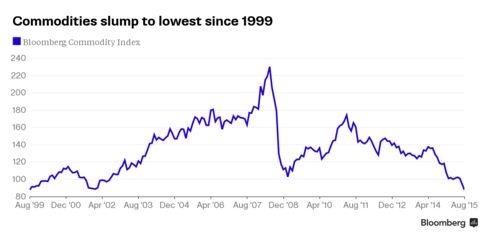 Cotton has climbed 6.3 percent this year, and gasoline futures are up 1.2 percent. The Bloomberg commodity gauge has dropped 18 percent to the lowest since 1999.
On Monday, raw materials slumped as the Dow Jones Industrial Average of stocks plunged more than 1,000 points at the opening before paring losses. Equities tumbled partly on economic concerns in China, the world's top importer of agricultural products.
"It looks like it's a national 'down' day," Sid Love, president of Sid Love Consulting Services in Overland Park, Kansas, said in a telephone interview. "You can't jump in and be a buyer when you get run over by everybody bailing out."
U.S. cotton production in the 12 months that began Aug. 1 will fall 20 percent to 13.08 million bales from the previous season, the Department of Agriculture said on Aug. 12. The forecast was cut 9.8 percent from a month earlier, while analysts surveyed by Bloomberg News expected an increase of 0.6 percent.
As of Aug. 18, hedge funds held a net-long position of 50,739 cotton futures and options, the most in five weeks, government data showed on Aug. 21.
Aggregate cotton trading on Monday was 68 percent higher than the 100-day average according to data compiled by Bloomberg.
(An earlier version of this story corrected the scope of the decline in the first paragraph.)
Before it's here, it's on the Bloomberg Terminal.
LEARN MORE