Canadian Conservatives Hold Steady as Duffy Damage Hits Harper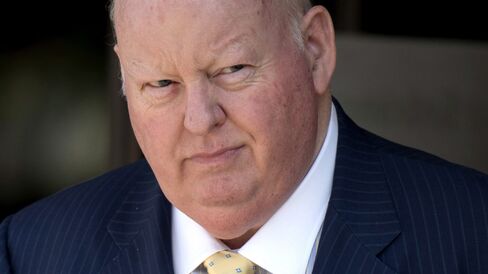 Prime Minister Stephen Harper called Canada's election campaign early and has been dogged by a court case each day since. Polls show it's rubbing off more on him than his party.
The latest testimony in the criminal trial of Mike Duffy has had little impact on support levels for the incumbent Conservatives, although more voters think negatively of Harper and more say it's time for a change in government.
Most concerning for the Conservatives, however, is another finding: Awareness of the Senate spending scandal is high and a sizable share of Harper's own potential voters don't think he is telling the truth.
"For them to see some wavering or softening among their leaning-but-not-locked-in voters, that is very dangerous for them," said Shachi Kurl, senior vice president of the Angus Reid Institute, which released a poll at the end of last week on the Duffy trial's impact.
The survey, however, also found that many voters say the Senate scandal will not be the foremost issue when votes are cast Oct. 19. The trial is due to adjourn this week until after the campaign.
"It's obviously not good news for Harper, but it's not as if there's some inverse political advantage for other party leaders," Kurl said.
Duffy is facing 31 charges related to his expense claims in a scandal that's weighed on Harper since it erupted 2013. E-mail evidence presented in court shows the prime minister's then-chief-of-staff Nigel Wright pressured Duffy to repay certain claims and Duffy refused. Initially, the Conservative Party agreed to pay, though balked when the price tag soared to C$90,000 ($68,200). Wright, a millionaire executive at private-equity firm Onex Corp., then decided to pay himself.
Secret Payment
The most politically explosive issue in the trial is who knew about that payment. Harper has pinned blame solely on Wright and Duffy, though the evidence has shown at least a dozen Harper staffers and four other senators were involved.
Foremost among them is long-time Harper aide Ray Novak, who replaced Wright as chief of staff. The Conservatives maintain Novak did not know about the payment however testimony has emerged contradicting them.
A former lawyer in Harper's office, Benjamin Perrin, testified Novak was in the room when Wright twice said he would pay for Duffy.
"Mr. Wright interjected and said 'Senator Duffy will be going ahead with repaying his expenses, because I will be paying for them,'" Perrin testified last week, recalling a conversation where he said Novak was seated next to him.
That revelation spurred new questions, but Harper stood by Novak -- even after Conservative campaign spokesman Kory Teneycke told reporters earlier this month that Novak would have told Harper had he known.
Widely Watched
The Angus Reid poll found 23 percent of voters who identified as "soft" Conservatives do not believe Harper's story on the trial. Further, 93 percent of respondents said they were paying attention to the Duffy story.
"You literally have to be living under a rock to not know what's going on on this particular issue," Kurl said.
One silver lining for the Conservatives, the pollster said, is that even people who don't believe Harper say the scandal may not influence their vote. Among all those who say they don't believe Harper, 72 percent think other issues will outweigh the Senate scandal when they decide who to vote for.
"The question is does this credibility problem -- and do these credibility issues -- fester and actually have a lasting impact, and can they get past it?" Kurl said.
The trial has not hurt national numbers for Harper's party, though. A poll conducted by Abacus Data after Wright's testimony found Conservative support steady at 29 percent.
Polling Deadlock
That result is in line with the latest national averages compiled by polling aggregator ThreeHundredEight.com, which also put Harper's team at 29 percent nationally, trailing Tom Mulcair's left-leaning New Democrats at 34 percent but ahead of Justin Trudeau's centrist Liberals at 28 percent. Those figures are little changed from Aug. 2, when the prime minister triggered the election.
However, Abacus also found 47 percent of respondents have a negative opinion of Harper, a figure that's risen steadily for four months and is higher than the negative scores of his two rivals combined. Harper scored well behind his rivals when respondents were asked to rank the leaders' honesty, and another 59 percent of respondents said it's "definitely" time for a change in government, up six percentage points from the previous survey.
The NDP and Liberals have both asked police to open new investigations in light of the evidence revealed at the trial, which is due to break at the end of this week and not resume until after the election.
Long Campaign
Michele Austin, a former Conservative campaign strategist, said the length of the campaign -- Canada's longest since 1872 - - will work in the party's favor.
"The Conservative strategy at this point is time heals all wounds," said Austin, now a consultant with Summa Strategies in Ottawa. The mood for party supporters watching the trial unfold is "eerie" as testimony revealing the inner workings of Harper's office has come out, she said.
"I would say there's a ghostly silence around it, which frankly I find off-putting," Austin said. "But as I said there's plenty of time."
Before it's here, it's on the Bloomberg Terminal.
LEARN MORE