A bullet tore through policeman Anil Kumar's chest as he fell to the dirt during a gunfight. He might have lived, but the makeshift bridge from the island where he worked in India's poverty-stricken state of Bihar was closed.
By the time his bleeding body had been ferried across the murky river and taken to a city hospital, it was too late.
"Maybe an hour would have saved his life," said Sub Inspector Randhir Kumar Bhatt, Kumar's replacement on the island of Raghopur who led the murder investigation, and one of a dozen officers overseeing an area larger than Brooklyn.
The circumstances of Kumar's death last year are a parable for Bihar, where more than 100 million people live on an average of less than $2 a day. The lawlessness, poverty and decrepit infrastructure that cost Kumar his life now also threaten to derail Prime Minister Narendra Modi's plans to reform India.
In a few months, Modi's party will face the first in a series of state elections that are key to his ability to transform India's economy. If he wins, Modi could dominate the nation's politics for decades. If he loses, India faces more years of deadlock dragging on growth.
When Modi swept to office last year with the biggest electoral mandate in three decades, investors poured money into India on hopes he would unleash the potential of the world's second-most-populous nation. The victory didn't include the upper house of parliament, where members are selected by state assemblies. It was an important detail.
Stuck Bills
While Modi can shepherd all the bills he wants through the lower house, opposition parties in the upper chamber can block everything, unless he's willing to call a joint sitting of parliament -- a tactic used only three times since India's independence in 1947.
So far they've done just that. Modi's proposals to make land easier to acquire for commercial projects and standardize tax rates are stuck, and measures like overhauling labor laws still wait on the shelf, contributing to a stagnation in India's equity markets. India's benchmark Sensex index has fallen 6.4 percent this year, after gaining 30 percent in 2014.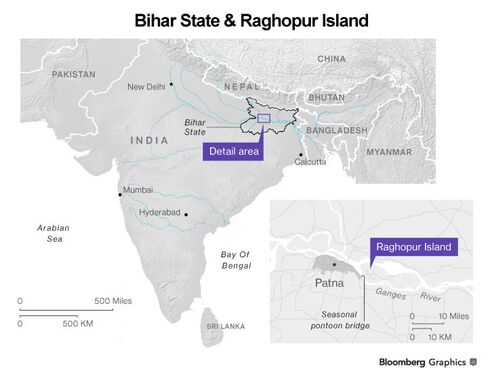 By most tallies, the earliest Modi can control the upper house is 2017 if his party takes Bihar and at least five other states holding elections in the next two years.
More than anywhere, Bihar reflects the challenge he faces in overhauling modern India. A vast, landlocked plain bordering the Himalayan nation of Nepal to the north and bisected by the Ganges, India's holiest river, the state is home to about one in 12 Indians.
Black Fever
Despite recent economic growth, Bihar still has the nation's lowest literacy rate and highest proportion of severely malnourished children. The percentage of direct foreign investment in India that goes to Bihar is so small it looks like a rounding error.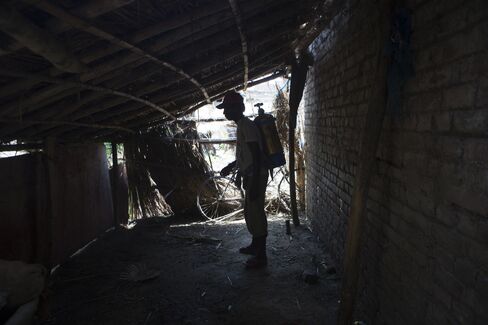 This is India's epicenter of visceral leishmaniasis, a parasitic disease known locally as "black fever" that kills more than 20,000 of the world's poorest people each year. The telltale facial bumps of survivors are easy to spot on Raghopur, the island in the Ganges where officer Kumar was shot.
With his back to the station he commanded in an abandoned school building, Kumar was caught in the hail of bullets from four gunmen. Angry about a business dispute, they'd come to execute the man who was standing beside him. A bystander pulled Kumar into a truck and took off for the hospital.
Bridge Closed
The rickety pontoon bridge with dirt ramps was closed, as it is for about half the year when monsoon rains swell the river. Kumar's body was carried down a muddy bank and onto the bamboo deck of a boat that chugged slowly to the other side.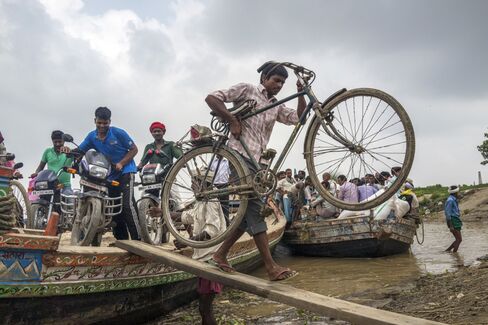 He died before reaching the hospital.
Raghopur isn't a far flung corner of India. The island of 230,000 people is on the outskirts of Patna, the state capital. Once the land where Buddha was said to have found enlightenment, Bihar now has the second-highest number of murders in India.
To capture this dangerous, dysfunctional state, Modi and his nationalist Bharatiya Janata Party will have to overcome a mindset guided by caste, India's ancient social hierarchy rooted in Hindu ideas of purity.
"Caste is the reality of Indian society and Bihar is no different from any other state," Nitish Kumar, the state's current leader and a one-time BJP ally who is now an opponent, tweeted this month during a public question-and-answer session.
Economic Focus
BJP officials in Bihar say their plan to win is the same gambit Modi employed in last year's national vote: Focus on economic development and sidestep the caste-based politics of major rivals. In that general election, the BJP-led coalition won 31 of the 40 national parliamentary constituencies in Bihar. An opinion poll in July showed Modi's coalition now trailing by 11 percentage points for the state vote, expected in October.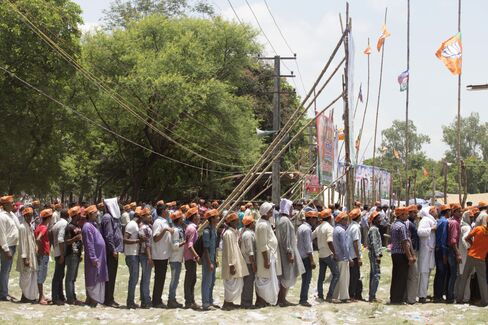 Modi, whose support was underestimated by polling before national elections, is positioning for a late surge: He announced this month a plan to spend $19 billion on development projects in Bihar.
Narrowing the gap in India's fragmented and partisan voting may require more than economic promises.
Bihar became infamous for what critics called "jungle raj," or rule of the jungle, under power-broker Lalu Prasad Yadav. He ran the state for seven years before handing power to his wife in 1997, when he left office after corruption charges for which he was later convicted. The pair took turns representing the same state assembly district: Raghopur.
Sipping Tea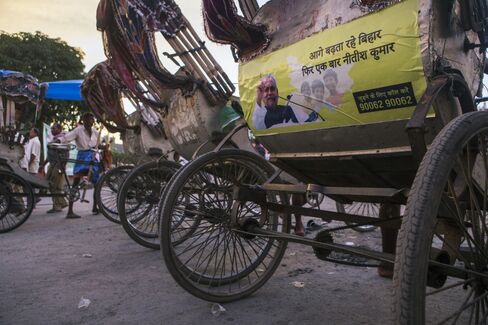 Yadav, who was released on bail, joined Nitish Kumar to co-lead a group of mostly caste-based parties as the main opposition to Modi. Yadav didn't reply to requests for comment.
"The BJP can't just walk in here," said Udai Narayan Rai, a political ally of Yadav who represented Raghopur in the state legislature for about 15 years.
Sipping tea on the porch of his two-story white bungalow, one of the biggest houses on the island, Rai said he's frustrated along with everyone else that conditions aren't better, but added that residents should be grateful to Yadav for road improvements and other accomplishments.
As a group of men, women and children pulled weeds by hand in the hot sun in fields in front of the house, Rai said people on the island know their place and will vote as they always have, "based on caste."
Modi's hopes may be boosted by voters like Nishibi Rai, a local farmer who says he's tired of politicians' broken promises -- including a permanent road to the mainland.
Murder Ticket
"Whoever builds a bridge, I will vote for him for the next 20 to 25 years," he said, standing barefoot and bare chested next to his family's cow. The 40-year-old said he's voted based on caste all his life.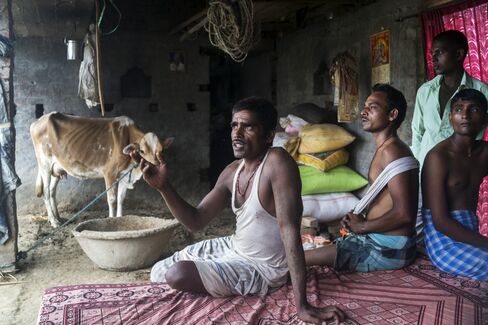 Navin Kumar Arya, an official in the chief minister's party, said in July that "work will begin very soon" on an $800 million project that would include a bridge that connects Raghopur to Patna. Most of the money is budgeted to come from the Asian Development Bank, which hasn't yet approved funding.
Modi, he said, is "a hypocrite" who has manipulated social divisions in the past and is switching tack about caste in Bihar only "because it suits him now."
To understand how Bihari elections have long worked, you should watch the "Godfather" films about the Italian Mafia, said Shaibal Gupta, who runs two development research centers in Patna, including one formed with the government. "Suppose I murder you -- my stock will increase in society. I will be sought after by the political parties, I will be given tickets to fight elections."
Bhatt, the police sub-inspector on Raghopur, said disputes on the island are frequently resolved by force. "When land issues get violent, people start cracking heads," he said.
The 34-year-old, with dark circles under his eyes and stubble on his face, has been in the job for about 18 months, a year more than originally planned, because no one is willing to take his place.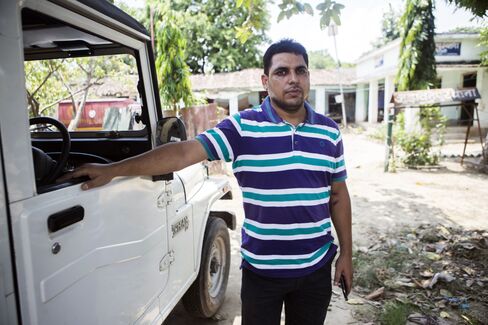 "I'm resigned to the fact that I may not leave this place alive," he said.
Before it's here, it's on the Bloomberg Terminal.
LEARN MORE