Pakistan Calls Off Talks With India as Kashmir Not on Agenda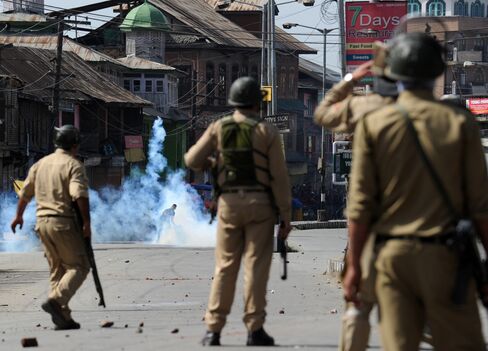 Pakistan scrapped scheduled talks with India saying its neighbor's conditions that keep Kashmir off the agenda are a hurdle, further stalling efforts to start a peace dialogue amid terror attacks and gun battles.
The two countries need to discuss all outstanding issues and propose a timeline to take the talks forward, Pakistan's foreign ministry said in an e-mailed statement late Saturday night. India's Foreign Minister Sushma Swaraj said at a press conference in New Delhi the talks should focus only on terror and gave Pakistan until Saturday evening to decide.
Reports that India had briefly put Kashmiri separatists under house arrest soured the environment before the talks were due to start Sunday between Indian National Security Adviser Ajit Doval and Pakistani counterpart Sartaj Aziz. If terrorism is the only purpose of the talks, it will only "intensify the blame game," Pakistan's foreign ministry said.
"Of course it is important, but it is not a big loss," Sreeram Sundar Chaulia, dean of the Jindal School of International Affairs near New Delhi, said by phone Sunday. The "way forward will be to wait until there is a change in attitudes.''
The two nuclear-armed neighbors have traded charges against each other for terrorist attacks in their respective territories. Pakistan accuses India of fomenting secessionism in its province of Baluchistan, and India regularly says Pakistan resorts to terrorism because it can't win a conventional war.
Three Wars
The worst border fighting in a decade has threatened to escalate the conflict just weeks after Narendra Modi met with Pakistan Prime Minister Nawaz Sharif for the first time in more than a year. At the July 10 meeting in Ufa, Russia, Modi had agreed to become the first Indian prime minister since 2004 to visit Pakistan.
"Pakistan's decision is unfortunate," Vikas Swarup, a spokesman for India's external affairs ministry, said in a message via twitter last night. "India did not set any preconditions."
Under the Ufa agreement between Modi and Sharif in July, both countries agreed to hold talks at National Security Adviser-level to discuss all issues connected to terrorism, Swaraj said yesterday.
Recent attacks, including one in India's Punjab state that killed seven people, prompted both nations to summon each other's high commissioners. The two countries have fought three wars over the mountainous region of Kashmir.
Cease-fire Violations
Data compiled by Julia Thompson, a researcher at the Stimson Center in Washington, show the two sides are violating a 2003 cease-fire in Kashmir nearly three times more frequently than they were in 2011.
Modi has struck a harder line since the July 10 talks, targeting Pakistan in veiled comments before a cheering audience of Indian expatriates in Dubai on Aug. 17.
"There has to be a decision -- are you with terrorism or with humanity?" he said, hailing a joint statement with the U.A.E. that condemned states using religion to sponsor terrorism and color political disputes. "However serious a problem may be, at the end talks are the only way to resolve it."
The initial meetings between Modi and Sharif indicated that the two leaders might find common ground to boost minuscule trade flows. That has eroded due to frequent attacks and questions over Sharif's ability to improve ties with India without support from Pakistan's army.
"The military has no interest whatsoever in the talks," said Sumit Ganguly, a professor of political science at Indiana University in Bloomington, referring to Pakistan. "The only reason, I think, that India is going ahead with them is because Modi wants to present a reasonable -- and not intransigent -- face to the world."
Before it's here, it's on the Bloomberg Terminal.
LEARN MORE