Kazakh Rout Lures Credit Suisse Seeing Insulation From Oil Slump
Nation needs lower crude price than Russia to balance budget

Gross domestic product forecast to grow 1.5% this year
After contributing to the biggest emerging- market selloff since 2012, Kazakhstan is back in favor.
Within hours of the nation's record currency depreciation, Credit Suisse Group AG analysts told clients they should buy Kazakh Eurobonds on bets their yields will fall closer to those of Russia. The tenge rebounded 12.5 percent against the dollar in the last two days of trading.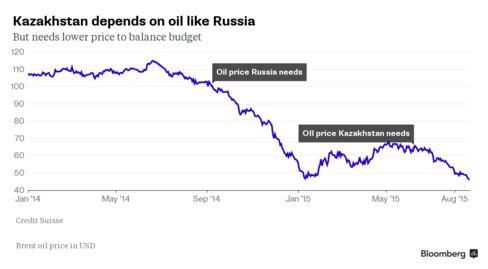 While the sudden shift to a free-floating exchange rate risks triggering inflation and bad loans for banks, it will also help boost the competitiveness of central Asia's biggest energy producer. Kazakhstan has a bigger buffer against falling crude prices than Russia, requiring an average $65 per barrel to balance the state budget compared with $102 for Russia, according to Credit Suisse estimates.
"The whole idea of the free-floating tenge is positive for the economy," Dmitri Barinov, who oversees $2.6 billion of assets that include Kazakh corporate bonds as a money manager for Union Investment Privatfonds GmbH in Frankfurt, said by e-mail. "Kazakhstan has some important advantages on their side: they can refinance themselves and they are still growing."
Kazakh Eurobonds due July 2045 declined on Monday, pushing the yield up to 7.18 percent. That's 26 basis points above Russia's notes due September 2043. The premium shouldn't be more than five basis points, Credit Suisse analysts Nimrod Mevorach and Amos Ruiz wrote.
More Resilient
President Nursultan Nazarbayev, who earlier this year pledged to avoid any sharp depreciation, said Thursday the currency's adjustment was needed to avoid a recession. Developing-nation assets tumbled, with the MSCI Emerging Markets Index having its biggest drop in three years, on concern the pressure from weaker currencies in China and Russia and plunging commodity prices might trigger more devaluations.
Brent crude dropped 3.4 percent in London trading to $43.92 per barrel by 1:41 p.m. Moscow time on Monday, heading for the lowest level in more than six years.
In contrast to Russia's shrinking economy, Kazakhstan's is set to grow 1.5 percent this year, according to the average forecast on Bloomberg. Kazakhstan is more resilient to shocks than Russia given the sanctions over Ukraine levied against many large Russian banks and companies, Mevorach and Ruiz said.
The risk of further declines in crude keeps Credit Suisse's trade a relative bet against Russia, rather than an outright recommendation to buy Kazakh bonds.
"We would be biased to go outright long in case Brent oil prices stabilize around current levels," Mevorach and Ruiz said.
Before it's here, it's on the Bloomberg Terminal.
LEARN MORE