Commodities Are Cheapest Since 2002, But Maybe Not Cheap Enough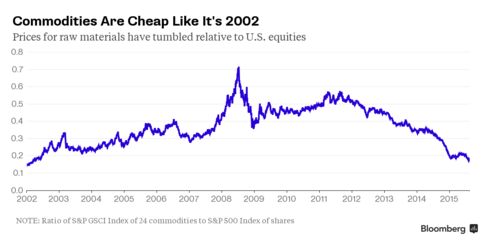 Here's one more way to measure just how bad the commodity meltdown has gotten: compare the asset class to stocks.
The Standard & Poor's GSCI Index of 24 raw materials is now trading near its cheapest since 2002 compared with the S&P 500 Index of U.S. shares. But if you trust history for providing guidance, that's still not low enough.
During the last big shift from commodity bull markets to bear markets, the ratio dropped even lower. After peaking in October 1980 amid supply shortages, producers responded to higher prices by boosting output. As gluts emerged, the ratio tumbled 96 percent to a record low of 0.1 in February 1999.
From shortages to gluts -- sound familiar? Now, with a similar supply shift, the ratio between the commodity and equity indexes reached a low near 0.17, down about 75 percent from its 2008 peak.
Assuming the S&P 500 continues to trade where it's at, the GSCI commodity measure would have to fall a further 44 percent in order for the ratio to reach the 1999 low of 0.1. That's on top of the 44 percent plunge in the past year.
For bulls, one saving grace could be a further rally in equities, which would mean less of a drop for raw materials in order for the ratio to reach the 1999 bottom. That may have to wait as U.S. shares tumbled Monday amid renewed concern that China's slowdown will exacerbate gluts.
Before it's here, it's on the Bloomberg Terminal.
LEARN MORE