U.K. Reopens Iran Embassy After Four Years as Hammond Visits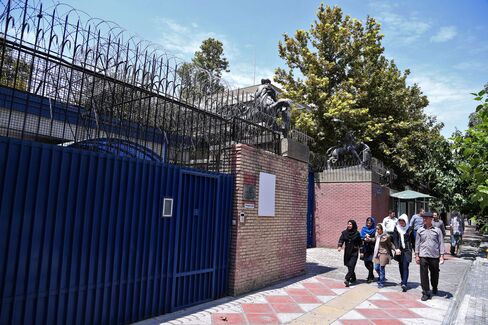 Foreign Secretary Philip Hammond arrived in Tehran on Sunday to open the U.K.'s embassy in Iran four years after a mob attack shut it down, marking an improvement in diplomatic relations since July's nuclear accord.
Police and security forces lined streets leading to the embassy for Hammond's visit, the first by a U.K. foreign minister since 2003. He will remain in the Iranian capital with a trade delegation on Monday, the Foreign Office said in a statement. Iran's embassy in London will also reopen on Sunday.
The nuclear agreement between Iran and global powers has eased the Islamic Republic's isolation, which intensified under former President Mahmoud Ahmadinejad. In 2011, a mob assaulted the U.K. embassy as well as a British residential compound in Tehran, tearing down the U.K. flag and Queen Elizabeth II's picture, breaking windows and rifling through documents. The U.K. expelled Iranian diplomats from London.
"The opening of the embassy can create a more suitable basis, and eases the circumstances, for the relationship between Iran and European countries, including the U.K.," Mohammad Bagher Nobakht, a senior adviser to President Hassan Rouhani, said in an interview in Tehran.
Trade Ties
The election of Rouhani in 2013 helped to ease tensions between Iran and the West. Rouhani had a popular mandate to repair an economy hurt by sanctions, and U.K. Prime Minister David Cameron told lawmakers that year he had "reached out" to Rouhani. The two met in New York last September -- the first between leaders of the countries since Iran's Islamic Revolution in 1979.
The U.K. is also a signatory to last month's nuclear deal with Iran, which lifts sanctions in return for imposing curbs on its atomic program.
"Encouraging trade and investment" will help ensure the success of the agreement, Hammond said in the Foreign Office statement. The two countries should be ready to discuss joint challenges such as regional terrorism, the spread of Islamic State and drug trafficking, he said.
Nobakht said Iran welcomes foreign investments that can bring "technology and knowledge."Better trade ties can also help Iran's non-oil exports access international markets, he said.
Hammond is scheduled to meet his counterpart Mohammad Javad Zarif in Tehran on Sunday, Iranian state radio reported.
Before it's here, it's on the Bloomberg Terminal.
LEARN MORE