Houston's Mike Fiers Throws Second MLB No-Hitter in 10 Days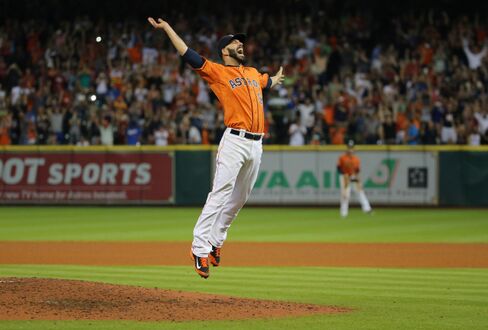 Mike Fiers of the Houston Astros threw the fifth no-hitter of the Major League Baseball season and the second in 10 days, blanking the Los Angeles Dodgers 3-0.
Fiers, 30, walked three and struck out 10 in his third start for the Astros, who obtained him in a trade from the Milwaukee Brewers on July 30. He threw a career-high 134 pitches in Friday night's win.
"Everything was working tonight," said Fiers, a right-hander who improved his career record to 22-28 while being watched from the stands by Nolan Ryan -- an executive adviser for the Astros who holds the MLB record with seven no-hitters.
Fiers struck out Justin Turner to complete the no-hitter, the first for the Astros since six pitchers combined to no-hit the New York Yankees in 2003.
Hisashi Iwakuma of the Seattle Mariners threw a no-hitter against the Baltimore Orioles on Aug. 12, the first no-hitter by an American League pitcher since 2012.
The three previous no-hitters this season were by Chris Heston of the San Francisco Giants, Max Scherzer of the Washington Nationals and Cole Hamels of the Philadelphia Phillies.
There have now been 29 MLB no-hitters since the start of the 2010 season -- surpassing the number thrown in the previous 16 years.
Before it's here, it's on the Bloomberg Terminal.
LEARN MORE