Countertop Maker Attracts Bearish Bets After IPO Honeymoon Ends
Caesarstone targeted after share price quadrupled since 2012

Investors concerned new factory in U.S. will narrow margins
Caesarstone Sdot-Yam Ltd. has been a rock star in the stock market, quadrupling in value since its initial public offering in 2012. Short-sellers are betting the streak is over.
Shares of the company, which makes quartz countertops, have failed to recover since plunging 26 percent on Aug. 5 in New York, when it trimmed its 2015 sales forecast. They tumbled a further 8.8 percent to $45.02 last week after an investment firm said the Sdot-Yam, Israel-based firm was overstating its profit margins.
Caesarstone is being targeted by bearish investors after posting the slowest revenue growth on record in the second quarter, partly because its focus on affluent homeowners instead of more affordable buildings like apartments and condominiums meant it missed out on growth in U.S. housing, the company said. Investors are also concerned that new plants opening in North America this year will cut into margins until they reach full capacity, said Brian Bythrow, a money manager at Wasatch Advisors.
"There's still growth, but growth has slowed," said Bythrow, who helps oversee about $18 billion for Wasatch in South Bend, Indiana, including Caesarstone shares. "The multiple got ahead of itself."
Caesarstone now trades at about 16 times 12-month future earnings, compared with an industry average of 22, according to data compiled by Bloomberg. Its valuation touched a ratio of 25 prior to its latest earnings report. The shares fell 0.9 percent to $44.64 at 12:17 p.m. on Monday in New York.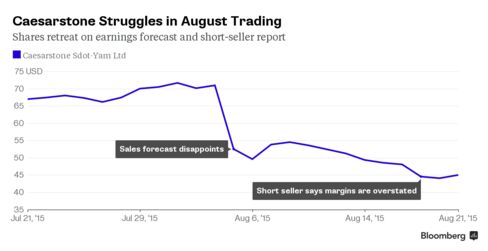 Bearish bets against Caesarstone rose to a more than two-year high of 2.9 percent of shares outstanding on Aug. 17, compared with 0.1 percent a year ago, according to data compiled by Markit, a London-based research firm. Short interest was at 2.6 percent on Aug. 20.
Chief Executive Officer Yos Shiran has navigated weak patches in the U.S. housing market in the past by getting homeowners to choose his pricier quartz countertops over competing materials such as granite or marble when remodeling their homes.
The company cut its 2015 sales guidance to as low as $495 million compared with a previous estimate of as much as $525 million. Revenue is forecast to rise 12 percent this year, less than half the 25 percent jump in 2014, according to the average estimate of five analysts surveyed by Bloomberg. Currency headwinds have also cut into sales numbers, the company said.
The lower sales guidance prompted Barclays Plc to downgrade the stock to the equivalent of hold from buy on Aug. 5.
The company's "valuation has already incorporated robust expectations for growth, and thus even a modest deceleration in U.S. sales may limit the stock's upside in the near term," Barclays analyst Stephen Kim wrote in a research note. He declined to comment on the report.
Bearish Report
Short-seller Spruce Point Capital Management said Aug. 19 that Caesarstone was downplaying pricing pressures and overstating its margins. The report prompted a 7.1 drop in the stock that day.
"We stand by all of our previous public statements, regulatory filings and presentations," the company said in an e-mail response to Bloomberg News the same day. "We believe in Caesarstone's business and its opportunities."
A majority of analysts recommend buying Caesarstone shares. The stock is expected to return 45 percent over the next 12 months, according to the median estimate of eight analysts surveyed by Bloomberg. JPMorgan Chase & Co. analysts issued a note Aug. 5 saying the selloff was overdone.
"We are still growing very healthy in the U.S.," Shiran told investors and analysts on an Aug. 5 call. "We expect to see a second-half growth rate that is stronger than what we saw in the second quarter."
New Production
Caesarstone has opened a production line at its new plant in Richmond Hill, Georgia, and plans to start a second one in the fourth quarter, Shiran told investors on the call.
To beat back short-sellers, the company will have to show investors that its margins are stable or improving after it adds the extra capacity, Bythrow at Wasatch Advisors said.
He's been reluctant to buy more Caesarstone shares in spite of the selloff.
"In this market, to be buying anything that is down is kind of foolhardy because this is a momentum market," he said. "Right now you've got a glitch in momentum, and valuation is not mouthwateringly cheap, so you're in a bit of a no-man's land."
Before it's here, it's on the Bloomberg Terminal.
LEARN MORE