Two Charts and One Map That Show Major Demographic Shifts Happening in America
Check out these important trends
Conor Sen, portfolio manager at New River Investments, appeared on Bloomberg TV to discuss some of the biggest demographic shifts happening in America—the cities people are migrating to, where millennials will settle down, and what's behind the jump in household formations—and how these trends will affect the economy and politics going forward.
Where are people moving?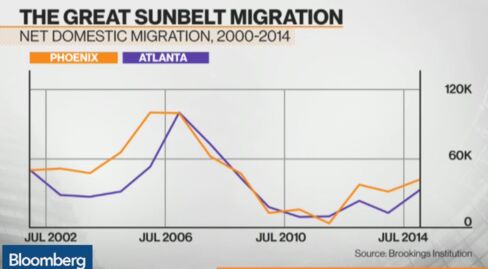 Sen highlighted a resumption of the pre-recession trend that saw migration to Sunbelt metros, such as Phoenix, Atlanta, Las Vegas, and Florida.
"In addition to all the houses we're going to build to house these people, we're also going to need to build the infrastructure to support them," said Sen. "Additionally, as we need more and more construction and entry-level labor, we may see some softening on the populist rhetoric on immigration."
Where will millennials end up?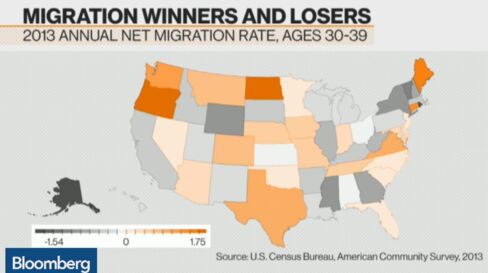 Dense urban areas such as New York City have been popular places for echo boomers in their 20s, but that doesn't mean they'll put down roots there.
Sen thinks the millennials will be pushed to the Pacific Northwest and Denver as they age, in large part due to the high cost of shelter in other popular locales.
"Whereas baby boomers move mostly from the Northeast and the Midwest to the Sunbelt, additionally for the millennials since California's gotten so unaffordable, you're going to see new migration patterns as people leave California and go to places like Denver and Portland and Seattle," he said.
A key question, according to Sen, is timing when millennials will have the financial means to go from renters in the city to homeowners in the suburbs.
The cause of surging household formation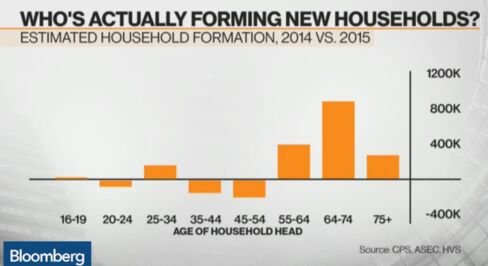 The common narrative is that the spike in U.S. household formation has been fueled by millennials getting their first jobs and starting to get a place of their own, but this isn't borne out by the statistics.
"It's kind of a quirk in the data, because it's not like all of a sudden 65-year-old baby boomers are moving out of their parents' basements and starting new households, but rather just that 64-year-olds are turning 65 and moving into an age bucket that has historically been quite small, but is set to grow significantly over the next 10 to 20 years," said Sen.
Before it's here, it's on the Bloomberg Terminal.
LEARN MORE