These Charts Show How Hard China Has Hit Global Markets
The damage is everywhere
Weak manufacturing data out of China was the latest bad news to wreak havoc in financial markets this week. The devaluation of the yuan last week sparked global growth concerns that hit almost every global asset class, finally reaching what had until now been a bastion of stability: the S&P 500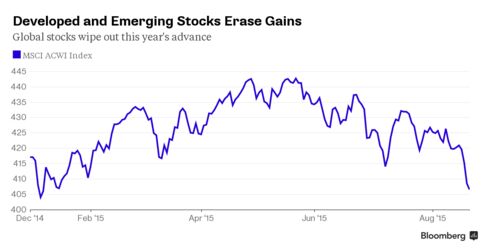 European shares entered a correction while emerging-market stocks faced the biggest weekly drop in more than three years. Equities in Hong Kong, Indonesia, and Taiwan entered bear markets. And with the S&P 500's steepest decline in 18 months yesterday, its two-day loss is the worst since 2011. Investors are selling the biggest winners of 2015 -- including Netflix, Apple and Amazon.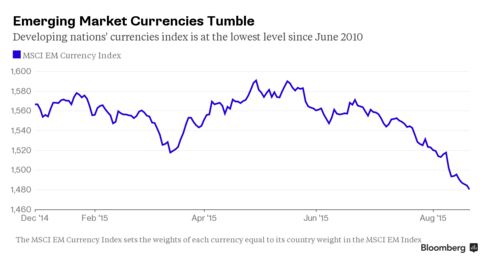 One currency investor calls it "a race to the bottom." First China, then Vietnam, then Kazakhstan removed their pegs, exacerbating a rout in emerging-market currencies to reach record lows. Malaysia's ringgit weakened to a 17-year low, the worst developing-nation performance this month after Russia's ruble. Colombia, where oil is the biggest export, also saw its peso weaken to an all-time low.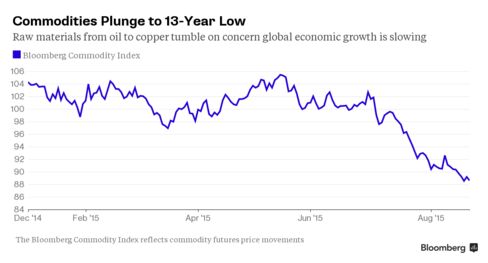 The pain seems never-ending for commodities, hurt again by the weakest Chinese factory data since the global financial crisis. The Bloomberg Commodity Index slid to its lowest level since 2002, while oil had the longest run of weekly declines in almost 30 years. Copper, nickel, zinc, aluminum, tin and lead also fell. BlackRock estimates commodity industry ETFs have seen outflows for five straight months.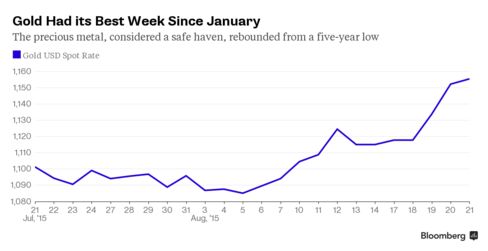 Gold is among the sole bright spots, rallying the most in seven months this week as investors fled to safety. Driving the gold boom is the Fed's fear of stubbornly low inflation, and market watchers have taken note: They have now shifted their bets on a September rate rise to a date later in the year, or even early next year.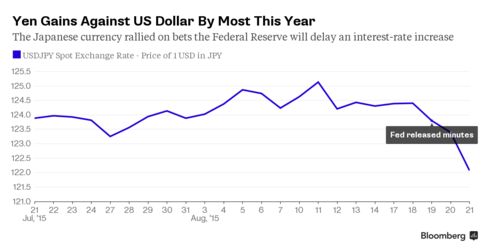 The yen has been another haven asset, strengthening the most this week since December, while the dollar weakened against currencies of nations with the lowest borrowing costs.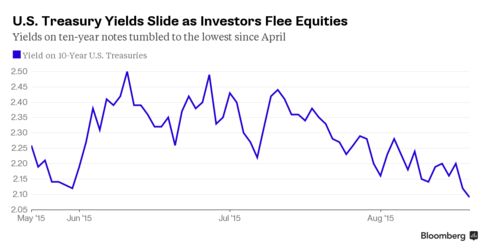 Speaking of havens, Treasuries posted their best week since March as demand for fixed income soared during the global selloff. Government debt from Australia to Britain also gained this week, driving the average yield on developed-nation bonds to a three-month low.
Before it's here, it's on the Bloomberg Terminal.
LEARN MORE