Rare earth minerals aren't so rare anymore, thanks to China.
Chinese exports of the minerals doubled in July from a year earlier, reaching the highest level in more than four years, according to government data. Shipments advanced after the country last year scrapped its 15-year-old export controls, and then in April removed a tax on ore shipments.
The group of 17 rare earths are used in everything from smart phones to electric cars to cruise missiles. China accounts for more than 80 percent of global production.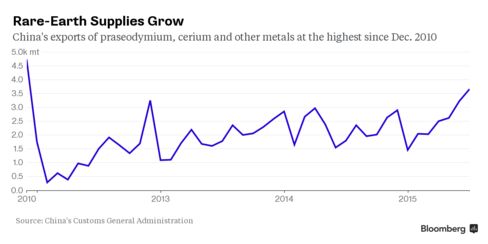 "This trend has been brewing for some time," said Kevin Starke, an analyst at CRT Capital Group in Stamford, Connecticut. "It's because of the termination of the export quotas. If there's less demand for rare earths in China, as ostensibly there is, that stuff is going to leave the country. Those factors are all conspiring."
Rare earth prices have been slumping along with other commodities and the rout is poised to deepen, according to Starke. China is the biggest user of raw materials and the country's economy is expanding at the slowest pace in a quarter of a century.
Prices for neodymium oxide, found in magnets, and praseodymium oxide, used in lasers, are at the lowest in more than four years. Lanthanum oxide, used in hybrid-car batteries, and yttrium oxide, which goes into microwave filters, are at the lowest since at least 2010.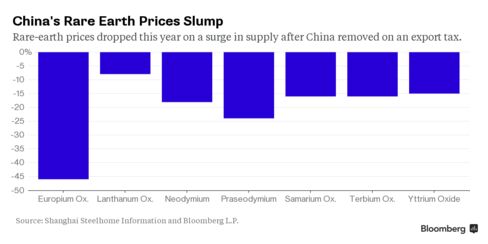 The price collapse has already claimed some victims. Molycorp Inc., a U.S. producer of rare earths, filed for bankruptcy protection in June having run out of cash.


Before it's here, it's on the Bloomberg Terminal.
LEARN MORE