Russia Hones Rescues for Cash-Strapped Firms Too Big to Fail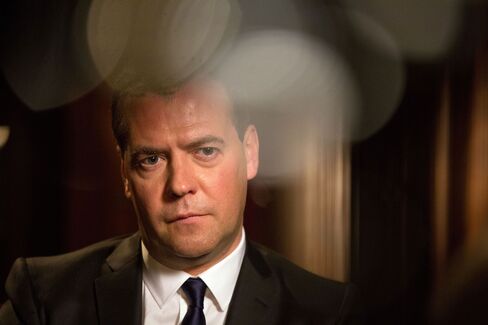 Russia is priming a rescue mechanism for companies on the verge of bankruptcy, an emergency measure that may be taken to contain fallout from the country's first recession in six years.
Prime Minister Dmitry Medvedev signed a government decree that enables cash-strapped companies to receive state guarantees for debt refinancing, provided their "special significance" for parts of the economy merits a lifeline, according to a document released Wednesday.
The move shows the lengths that authorities are willing to go in their effort to head off discontent as a recession gripping the nation of 143 million puts livelihoods at risk. While the poverty rate has soared and with President Vladimir Putin conceded state resources are stretched, the government is trying to keep a lid on unemployment to prevent unrest.
The government is expanding a key instrument of its anti-crisis plan unveiled in January, which allocated 200 billion rubles ($3 billion) for state guarantees on loans or debt issues by companies. It's the same tool used to stave off an industrial collapse and rescue banks six years ago, when Russia spent more than 3 trillion rubles on stimulus measures, including state guarantees on loans.
Few companies have won state backing so far. The government agreed to provide loan guarantees of 16.7 billion rubles to Russian tank and railcar maker Uralvagonzavod, according to Interfax. In March, the company said it had asked for guarantees of as much as 60 billion rubles.
'Relatively Large'
While Industry Minister Denis Manturov said in May that the authorities were ready to provide 20 billion rubles in guarantees to carmaker GAZ Group, no funds have been disbursed. The government has received "relatively large requests" for guarantees, according to Deputy Economy Minister Nikolay Podguzov.
The number of reviewed applications by companies has been limited by a "relatively inconvenient structure of guarantees and a difficult procedure of interaction with banks," Podguzov said in an interview.
The stranglehold of U.S. and European sanctions has blocked access to capital markets and increased borrowing costs. A crisis has spread to almost every third Russian company town, where one employer dominates the local economy, and only a fraction of them will get government aid, officials said last month.
Putin has backed a weak-currency policy to aid producers hit by the economic slump. With the budget pinched by lower oil prices, authorities have responded with spending cutbacks that have spared outlays on the military while channeling the bulk of a stimulus program to support lenders and industry.
The ruble is the worst performer globally against the dollar in the past 12 months with a 47 percent drop. It traded little changed at 68.0530 versus the dollar at 10:21 a.m. in Moscow after declining for six days.
Before it's here, it's on the Bloomberg Terminal.
LEARN MORE