Oil Rout Trumps Canada's Election in Poloz's Next Rate Decision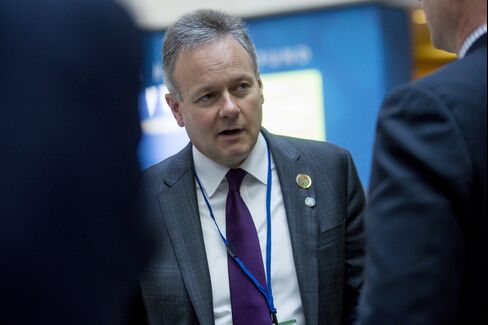 Oil will take precedence over politics when Canada's central bank considers next month whether to cut interest rates in the middle of an election campaign.
Prices for the nation's biggest export are below $50 a barrel and about $20 less than the Bank of Canada assumed in July when Governor Stephen Poloz cut the benchmark rate for the second time this year, to 0.5 percent. If that persists it may add more slack to an economy Poloz has said will take almost two years to recover.
The rate decision set for Sept. 9 is the only one scheduled during the election campaign Prime Minister Stephen Harper began this month for the Oct. 19 vote. Swaps trading Thursday suggested about a 20 percent chance of a rate cut. Poloz may respond if there's evidence of new damage from the swoon in oil, according to Mark Chandler, head of fixed-income strategy at Royal Bank of Canada's RBC Capital Markets unit in Toronto.
"I don't think you can rule it out," he said by telephone of a possible September rate cut, "they would want to keep that option open." The drop in oil, he said, puts policy makers "in a difficult position."
The central bank moved interest rates during election campaigns in 2008, 2006 and 1997. "History shows that being in the midst of a federal election should not be a restraining factor," Chandler said in a research note. Poloz has also made judgments this year that had political fallout, such as a July forecast showing two straight declines in quarterly output that some economists dub a technical recession.
Bank of Canada spokeswoman Louise Egan cited an April press conference that Poloz gave when asked Thursday about the campaign and rate decisions. "We have a job to do and we can go about that job independent of what's going on with the government," the governor said at the time.
Harper's Stewardship
Harper has staked part of his re-election bid on sound economic management including tax cuts and gains in the labor and housing markets. Polls suggest a three-way race between Harper's Conservatives, Tom Mulcair's New Democratic Party and Justin Trudeau's Liberals, with the opposition leaders saying the shrinking economy suggests mismanagement.
Voters decide about the economy and who should run it based more on their own situation than on messages from the central bank or other agencies, according to Bruce Anderson, chairman of polling firm Abacus Data.
"A little bit more up or down isn't going to dramatically alter the political consequences," he said by telephone. Abacus published a poll Thursday showing sharply weakened perceptions of the economy, with 55 percent of respondents describing it as being in a "mild recession."
Poloz declined to comment at a July 15 press conference on whether Canada had suffered a recession or if fiscal stimulus was needed. His July rate cut followed a January reduction taken on early evidence that cheaper crude would trigger a drop in energy investment. Since then companies from Suncor Energy Inc. to Trican Well Service Ltd. have scaled back operations.
Crude's Decline
The fresh decline in oil prices "does put some pressure on the bank to address it" in the next rate decision, said Randall Bartlett, senior economist at Toronto-Dominion Bank. At the same time, energy companies have likely made the biggest cuts already, meaning "the situation for the bank isn't nearly as dire as it was in January or in July."
The world's 11th largest economy is also being helped by a Canadian dollar that fell this month to the lowest since 2004 and on Thursday afternoon was about C$1.31 per U.S. dollar. There's one other way it's worth waiting for a rebound: the U.S. Federal Reserve is signaling it will tighten, which Poloz has called a sign of whether Canada can ride a U.S. recovery.
"He is going to skip the next meeting," said Luc Vallee, chief strategist at Laurentian Bank Securities in Montreal. "This is a safer place both in terms of economic information and in terms of not having to deal with controversy."
Poloz's Independence
None of the 20 economists surveyed by Bloomberg are predicting a rate cut through the end of September. However no economist predicted the January cut, suggesting Poloz won't be deterred from action if he sees another slump, according to Jimmy Jean, a strategist in the fixed-income group at Desjardins Capital Markets.
"He wouldn't let himself be influenced by the fact that there is an election campaign going on," Jean said from Montreal. "He's shown he can be fairly independent of either political considerations or what the market thinks."
There is more prospect for a rate cut at the October meeting, which falls two days after the election, economists said. Investors are also looking to the fall, with swaps trading suggesting about a 50 percent chance of a rate cut on Oct. 21. That meeting also coincides with a new Monetary Policy Report and revised growth projection, just as the moves in January and July did.
"They have been reluctant to move in between," those reports, Chandler said. "I don't think, based on what history has told us, that it's the campaign itself that will matter."
Before it's here, it's on the Bloomberg Terminal.
LEARN MORE