Julian Bond, Hamid Gul, Louis Stokes: Obituaries This Week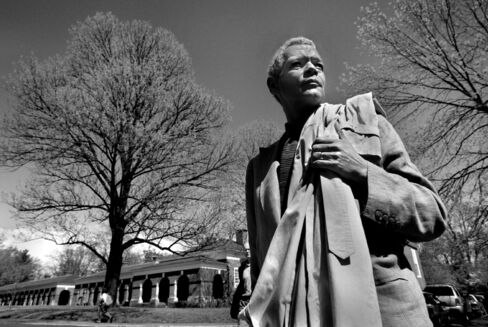 This week's notable deaths included a leader of the struggle in the 1960s to end racial segregation in the U.S., the former head of Pakistan's intelligence operations and the first black member of Congress from Ohio. Below are summaries of these and other obituaries.
Julian Bond, 75. Civil rights activist in the 1960s, who as communications director of the Student Nonviolent Coordinating Committee helped the national news media uncover stories of racial discrimination in the South. Later, he was a leader of the NAACP, co-founded the Southern Poverty Law Center and served six terms in the Georgia Legislature. Died Aug. 15 in Fort Walton Beach, Florida. The cause was complications of vascular disease.
Hamid Gul, 78. General who ran Pakistan's spy agency, Inter-Services Intelligence, from 1987 to 1989. A supporter of Islamic militancy and a fierce critic of the U.S., he backed Afghanistan's guerrillas who fought against invading Soviet troops and then helped the Afghan Taliban. Died Aug. 15 in Muree, near Islamabad, Pakistan. The cause was a brain hemorrhage.
Louis Stokes, 90. A 15-term congressman representing Ohio, who in the late 1970s ran the House Select Committee on Assassinations that investigated the murders of President John F. Kennedy and Martin Luther King Jr., concluding that both cases "probably" involved conspiracy. His brother, Carl, became mayor of Cleveland in 1967, the first black person elected to lead a major U.S. city. Died Aug. 18 after he announced he had brain and lung cancer.
Susan Newhouse, 80. Philanthropist wife of billionaire publisher Donald Newhouse, who with his brother, Samuel Newhouse, runs New York-based Advance Publications. She was longtime chairman of the Fresh Air Fund, a nonprofit group that sends poor children from New York City to rural areas for summer vacations. Died Aug. 13 at her home in New York. She had primary progressive aphasia, a disease that disables the part of the brain that processes speech and language.
Bud Yorkin, 89. Director and producer who, with Norman Lear, created the groundbreaking TV sitcom "All in the Family" in the 1970s. Their company, Tandem Productions, made other successful programs such as "The Jeffersons," "Sanford and Son" and "Maude." Died Aug. 18 at his home in the Bel Air neighborhood of Los Angeles of natural causes.
John Correnti, 68. Executive who helped reshape the U.S. steel industry by moving operations away from Pittsburgh, building mills in Arkansas and Mississippi. He also embraced innovative technology, including electric arc furnaces that produce the metal by recycling steel scrap. He was chief executive officer of Osceola, Arkansas-based Big River Steel and had been CEO of Nucor Corp., the nation's largest steelmaker, from 1996 to 1999. Died Aug. 18 in Chicago.
Before it's here, it's on the Bloomberg Terminal.
LEARN MORE