Energy Spending Cuts Remove Hurdle to S&P 500 Earnings Recovery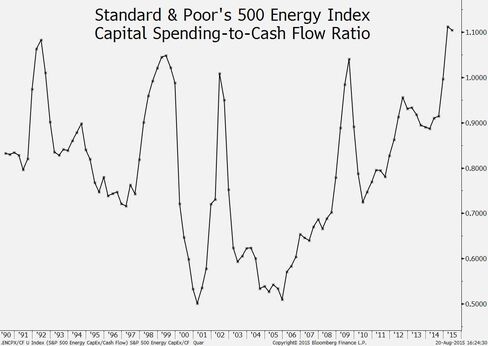 Capital-spending reductions by energy companies have the potential to renew earnings growth for the Standard & Poor's 500 Index, according to Gina Martin Adams, a strategist at Wells Fargo Securities LLC.
The attached chart tracks capital expenditures by components in the S&P 500 Energy Index relative to cash flow from operations, a gauge of profitability. Martin Adams cited a similar chart yesterday in a report.
Industry outlays for land, machinery and other assets have equaled about 1.1 times cash flow this year, based on 12-month readings. This ratio is the highest in the 25-year history of the energy index, according to data compiled by Bloomberg.
"Cuts to forecasts started rolling in in recent months" on energy capital spending that "create better prospects for the bottom line," Martin Adams wrote. The industry group's second-quarter profit tumbled 56 percent as S&P 500 earnings dropped 1.8 percent, the first decline since 2009.
Reduced capital spending in energy is one of two potential shifts that would lift earnings beyond analysts' estimates, the New York-based strategist wrote. The other is a revenue rebound in other industries.
S&P 500 sales growth outside of energy slowed last quarter to 1.1 percent from the first quarter's 2 percent, according to data compiled by Bloomberg. Falling oil and gas revenue led to overall declines of 5.2 percent and 3.7 percent, respectively.
Before it's here, it's on the Bloomberg Terminal.
LEARN MORE