Death Cross Looms for South African Stocks After 3-Week Selloff
All-Share tumbles for worst week of losses in four years

Drop poised to deepen amid rout in emerging-market equities
A trading pattern looming in stock charts suggests a three-week selloff that drove South African shares to a seven-month low still has room to run.
The FTSE/JSE Africa All Share Index slipped 1.5 percent by the close in Johannesburg on Friday for the biggest weekly decline in four years. The gauge is down 11 percent since its record high on April 24, entering a so-called correction, amid a rout in emerging-market stocks spurred by anticipation of the first U.S. interest-rate increase since 2006 and as economic data from China adds to fears of a global slowdown.
The average level of the All Share Index over the past 50 days is close to dropping below its 200-day mean, a phenomenon known as a death cross. This last happened on Nov. 18, which was followed by a 6 percent decline in the gauge over the next month.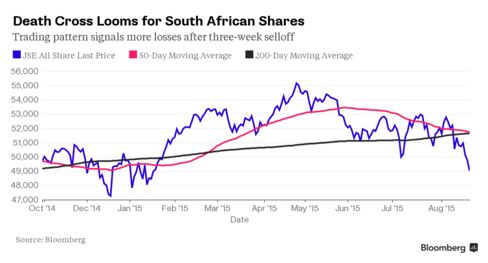 The index will probably fall to levels last seen in October, according to Neels Heyneke, a technical analyst at Nedbank Group Ltd. in Johannesburg. That implies a further decline of about 5 percent.
"In the very short term we should get a bounce from here, but I'm not calling a bottom on the market," he said by phone on Friday. "We've just reached some short-term target levels here, but I would be surprised if we don't go to the October lows."
The slump in the stock market and a slide in the rand this week to its lowest level in almost 14 years underscores the challenges faced by President Jacob Zuma's administration in reigniting investment and growth in the $366 billion economy struggling with 25 percent unemployment and an electricity crisis. At the same time, slowing growth in China is threatening the top destination for South Africa's raw materials.
"We haven't seen China this weak in a long time and it's a major market for South African mining companies," Troye Brady, an analyst at Noah Capital Markets Pty Ltd., said by phone from Johannesburg. "We're in unprecedented times."
Before it's here, it's on the Bloomberg Terminal.
LEARN MORE