Biotech Rebel Martin Shkreli Lashes Back at His Former Company, Retrophin
The ousted CEO demands $70 million and alleges damaged reputation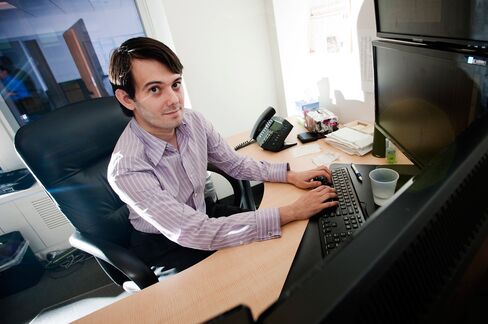 On Monday, the biotech company Retrophin escalated its legal fight against founder Martin Shkreli by filing one of the most unusual lawsuits in the history of corporate parricide. Now Shkreli has fired back.
Retrophin, a publicly traded company whose official purpose is developing drugs for rare diseases, alleged in federal court in New York that Shkreli launched the startup in 2011 primarily to create an asset he could parcel out to aggrieved investors in an insolvent short-selling hedge fund he ran. The company asserted that before its board ousted him in September 2014, Shkreli did exactly that: arrange a series of backdoor deals using company cash and stock to placate a horde of irate claimants. Retrophin demanded Shkreli pay over $65 million and disgorge unspecified amounts of his past compensation.
Shkreli, 32, has been controversial in the biotech industry for some time. He started out in his mid-20s targeting certain small drugmakers for online vilification while simultaneously selling their stock short, meaning he'd profit if share prices fell. That activity won him more than a few enemies. Then he turned around and made an unexpected long bet—starting Retrophin and taking it public.
In an interview, he branded the Retrophin suit against him "drivel." Shkreli said everything he did at the company had been approved by the board and insisted that he was the wronged party. Now his attorneys with the law firm King & Spalding have upped the ante, demanding in an arbitration proceeding that Retrophin pay Shkreli more than $70 million, reflecting company stock he's owed and damage to his image as a businessman.
"Retrophin publicly and summarily forced Mr. Shkreli out of the company, even though it had no legal basis to do so," the arbitration demand asserts. "Retrophin's action also caused Mr. Shkreli severe reputational injury."
Shkreli's counterclaims against Retrophin came in a private arbitration action filed with an organization called JAMS, because his employment contract with the company specified that any disputes be sorted out in this manner. Assuming that JAMS accepts the arbitration request—as is likely—Shkreli's lawyers will almost certainly elaborate on his claims in more profuse filings.
Then, of course, there will be Shkreli's formal response in court to the Retrophin lawsuit, the inevitable discovery demands by both sides, depositions, motions, and all the rest. The fight, it appears, has just begun.
Before it's here, it's on the Bloomberg Terminal.
LEARN MORE