Apple Watch Boosts Downloads at Swedish Fitness App Lifesum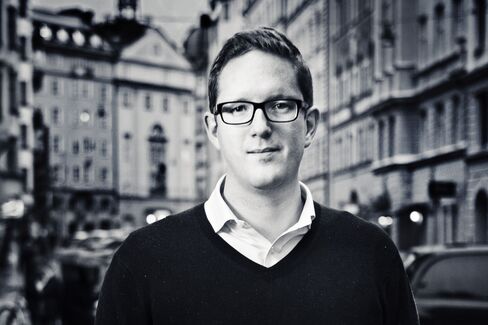 Swedish health startup Lifesum is aiming to double its user numbers by early next year as its app gains popularity in the U.S., helped by integration with Apple Inc.'s watch.
The app, which counts calories and offers healthy recipes and motivation to those trying to get in shape, got a boost as Apple mentioned it in a presentation in October and later endorsed it as a useful feature for its watch. Lifesum seeks 20 million registered users by April, up from almost 11 million now, Chief Executive Officer Henrik Torstensson said in an interview.
Lifesum is up against bigger rivals such as sporting-goods giants, which are gobbling up apps that help users shed unwanted pounds and lead a healthier lifestyle. Adidas AG bought workout app Runtastic GmbH, and Under Armour Inc. acquired apps Endomondo and MyFitnessPal for about $560 million.
Reaching the user goal "won't be a walk in the park," Torstensson said at Lifesum's headquarters overlooking a canal in Stockholm. User numbers have more than doubled in the past few months and Lifesum is projecting another growth spurt toward the end of the year, he said.
One of the challenges for Lifesum and rivals is to get those who download and register to continue to use the app -- and upgrade to paid-for versions. Torstensson declined to give the number of Lifesum's active users or those who pay to access the product's premium features.
"That's really the product challenge; how do you make it fun, accessible, motivational, easy to use and keep on using," he said.
Growth Plans
Lifesum's app also works on devices such as the iPhone and Android smartphones, and it's betting on help from the burgeoning smartwatch market as it expands beyond its strongholds of the Nordic region and Germany. The U.S. is set to become its biggest market this fiscal year, Torstensson said. Currently, the U.S. is its second or third biggest region.
Lifesum was founded in 2008 and it raised $6.7 million in 2014 in an investment round led by Bauer Media Group and SparkLabs Global Ventures. While the startup has "a very healthy cash balance," it is likely to raise more funds in the future, according to Torstensson. "There's lots of interest in both health and fitness technology and in Stockholm," he said.
Revenue for the fiscal year ended in April was "significantly higher" than the 27.5 million kronor ($3.2 million) a year earlier, Torstensson said, without giving further details. The company plans to expand its Stockholm office to 50 to 55 people by the end of April, from 39 now.
"The modern health company really should be digital," Torstensson said. "It's definitely a multibillion-dollar market, and there should be companies with multibillion-dollar revenues built over time."
Before it's here, it's on the Bloomberg Terminal.
LEARN MORE