1) Currency rout
The race to the bottom of global currency markets is on.
You could blame China for devaluing the yuan earlier this month. Then this week the Central Asian state of Kazakhstan shocked markets by dropping control of its currency, called the tenge (pronounced TEN-gee). The currency plunged 22 percent and ignited a debate over which country would be next. A list of 10 prime candidates eventually emerged.
The end of the week looked like this: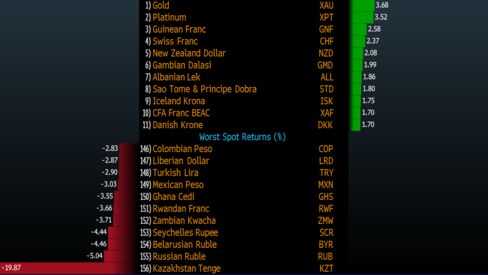 2) Bear markets arrived in stocks
Falling currencies led investors to sell stocks in many emerging markets, sending many to more than 20 percent below their recent peak, a common definition of bear markets. Hong Kong, Indonesia and Taiwan fell into one, while the Philippines and Brazil came close.
The MSCI Emerging Markets index crashed 5.7 percent during the week – its worst drop since May 2012 – as investors fled for the safest assets.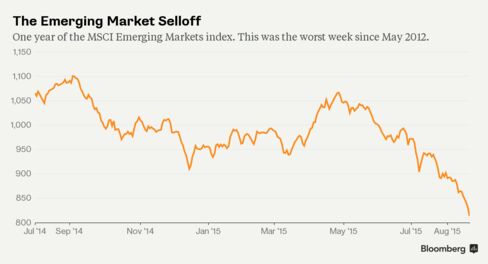 3) Not everyone is bearish on oil
Credit Suisse energy economist Jan Stuart predicted that crude will rise to $71 a barrel by the end of the year, compared with about $40 in New York on Friday. U.S. production will decline, while consumption is increasing. You can hear his views here.
4) It was even a bad week for Santa Claus
Finland's shrinking economy has hit Dianordia Oy, the company that offers kids from all over the world an opportunity to meet Santa Claus. Just four months before Christmas, the firm faces bankruptcy as it struggles to repay its debts. Creditors gave the company a week to rise the funds.
https://instagram.com/p/xdrFbls5Wp/
Before it's here, it's on the Bloomberg Terminal.
LEARN MORE