Yellen's Learned These Five Things About the Economy Since July
Jobs are strong, wages are a mystery and China risk is up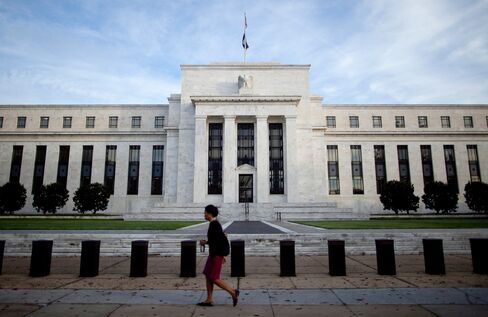 The world today looks different than it did three weeks ago, when Federal Reserve Chair Janet Yellen and her colleagues sat down to discuss monetary policy at their July 28-29 Federal Open Market Committee meeting, the minutes of which were released Wednesday.
Data coming in since the Fed's meeting show a still-strengthening job market but heightened risk of too-low inflation and more fragility in economies abroad, persuading investors that the FOMC will have to revisit its forecast and perhaps take a September interest-rate hike off the table.
Here's what they know now compared to what they knew then.
Jobs keep coming
Development: Positive
July minutes state: "Participants observed that the labor market had improved notably since early this year, but many saw scope for some further improvement."
Since then: The labor market is still healing, adding 215,000 jobs in July, more than the 211,000 average for the year to date, an Aug. 7 report showed.
Wages are a question mark
Development: Negative to neutral
July minutes state: "The ongoing rise in labor demand still appeared not to have led to a broad-based firming of wage increases,'' and "it was noted that considerable uncertainty remained about when wages might begin to accelerate.''
Since then: A fresh report threw cold water on what seemed like a nascent pickup in compensation. The employment cost index's wages and salaries component posted a 0.2 percent gain in the second quarter, the smallest in data going back to 1982 and down from a 0.7 percent increase in the prior three months, according to a July 31 release.
Another pay gauge, average hourly earnings, climbed 2.1 percent in the year through July. That's in line with the 2 percent average since the recession ended in 2009, the Aug. 7 jobs report showed.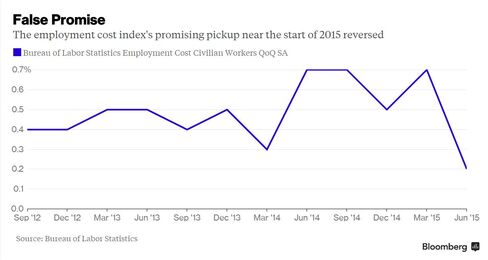 China is riskier
Development: Negative
July minutes state: "Several participants noted that a material slowdown in Chinese economic activity could pose risks to the U.S. economic outlook."
Since then: Chinese economic data have been weak, with exports and imports contracting more than forecast in July. What's more, China devalued the yuan on Aug. 11 by shifting to a more flexible exchange rate. The surprise move stoked speculation that China's slowdown could be worse than expected, and that the government is trying to shore up growth by allowing the currency to weaken. Chinese officials says they're just giving market forces a bigger say in the yuan's value.
Commodities down, dollar steady
Development: Negative to neutral
July minutes state: "Some members continued to see downside risks to inflation from the possibility of further dollar appreciation and declines in commodity prices.''
Since then: The Bloomberg Commodity Index, which includes a basket of goods as disparate as corn, crude oil and zinc, has continued its months-long decline. The graph below shows its descent. The dollar has held relatively steady compared to a basket of 10 leading global currencies, based on the Bloomberg Dollar Spot index.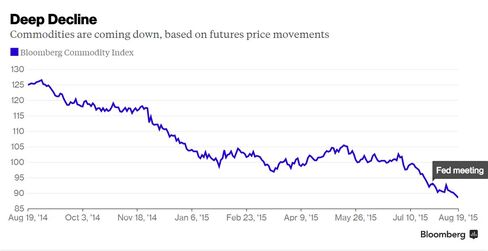 Inflation hasn't budged
Development: Negative
July minutes state: "Inflation had continued to run below the Committee's longer-run objective, but members expected it to rise gradually toward 2 percent over the medium term as the labor market improved further and the transitory effects of earlier declines in energy and import prices dissipated."
The FOMC statement said rates will rise when the committee is "reasonably confident'' that inflation will move back to 2 percent "over the medium term.''
Since then: The timeline for inflation getting back to goal has lengthened. Since Fed officials met, crude prices have fallen another 16.4 percent through Wednesday. The personal consumption expenditures price index, the basis for the Fed's inflation target, rose 0.3 percent for the year ending June, continuing a more than three-year stretch below goal.
"I really don't know what reasonably confident means for the committee as a whole,'' said Laura Rosner, U.S. economist at BNP Paribas in New York. "They need to articulate better what the risks are on the inflation side.''

Before it's here, it's on the Bloomberg Terminal.
LEARN MORE