What Emerging Market Crisis? These Bonds Trump Global Assets
Developing-nation dollar bonds outperform U.S. debt, stocks

Many companies are benefiting from currency depreciations
For all the handwringing about how the plunge in developing-nation currencies could blow up their bond markets, borrowers in these countries are doing just fine.
While dollar-denominated bonds sold by emerging-market companies have lost 2.8 percent since late May, they are still up 2.3 percent this year through Wednesday, according to data compiled by Bloomberg. That compares with a 0.2 percent loss on U.S. investment-grade debt this year, a 4.3 percent slide in gold and a 0.4 percent retreat in global stocks.
As currencies from the Turkish lira to the Colombian peso tumbled to all-time lows, forcing companies to cobble together more local currency to repay dollar debt, some investors have become concerned about a possible wave of defaults.
While the currency-mismatch may indeed be a problem for some companies, a widespread crisis is unlikely, according to firms including AllianceBernstein LP and Union Investment Privatfonds GmbH. That is because many companies that sold dollar debt are exporters receiving foreign-currency revenues. With weaker exchange rates, their incomes rise when converting the dollar into local currencies, offsetting the rise in debt costs.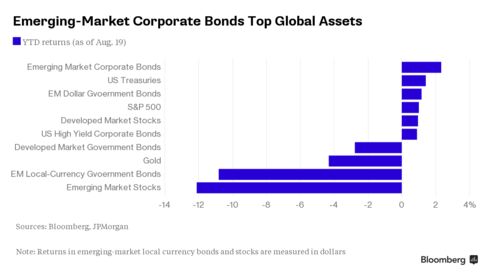 "The market is not as vulnerable as commonly perceived," Shamaila Khan, an emerging-market money manager at AllianceBernstein, which oversees $485 billion in assets, said by phone from New York. "The vast majority of the companies are beneficiaries of the currency depreciation. They are not a systematic risk."
Debt Outperforms
Emerging-market currencies are in free fall as a conflux of forces -- a slowdown in China, prospect of higher borrowing costs in the U.S. and a slump in commodity prices -- led investors to shun developing-nation assets. Brazil's real has lost 24 percent against the dollar this year, Colombia's peso tanked 21 percent while Turkey's lira slumped 20 percent.
The currency malaise has put emerging-market corporate debt under renewed scrutiny after a borrowing binge helped triple the size of the market to $1.4 trillion over the past five years.
Yet the trend of dollar debt outperformance has only deepened since Bloomberg reported in April that some of the concerns may be overblown.
While investors demand an extra yield of 3.8 percentage points to hold emerging-market corporate bonds over U.S. Treasuries, the highest since February, it's still lower than in mid-December, according to JPMorgan Chase & Co. That's a far cry from a premium of 5.6 percentage points reached during the European debt crisis in 2011 and the record high of 9.9 percentage points set in 2008.
The makeup of the bonds shows why investors have been relatively sanguine.
Petroleos Mexicanos
About 30 percent of dollar debt outstanding is sold by oil and materials producers, two major export sectors, according to data compiled by Bloomberg. Falling commodity prices surely undermine the companies, but they are largely unaffected by the exchange-rate declines because they receive revenue in dollars and have most of their costs in local currencies.
Mexico's state-owned oil company Petroleos Mexicanos, for instance, saw its benchmark bonds return 1.4 percent this year, even as the peso dropped 11 percent and crude oil slumped 24 percent. About 31 percent of Pemex's sales came from the U.S. last year.
As the largest borrowers, banks and financial firms make up 38 percent of the overseas debt. They have mostly hedged their currency exposure due to tight regulations, according to Sergey Dergachev, a money manager at Union Investment.
Manageable Risks
Dergachev acknowledged that some industries, like retailers and telecommunication companies, can see "some deterioration" in their ability to pay off the debt since they don't have dollar incomes.
But the risks are still manageable for most of them as the bonds won't mature in the next few years. On average, bonds in Bloomberg's benchmark emerging-market corporate index come due in about eight years.
"Most names are fundamentally strongly positioned and flexible to withstand those shocks," Dergachev who helps oversee $13 billion in emerging-market debt at Union Investment in Frankfurt, said in an e-mailed reply.
Among those losers, bonds of Indonesian tire maker PT Gajah Tunggal and animal feed producer PT Japfa Comfeed Indonesia plunged to their lowest on record this month as the rupiah slumped. Both companies have recently been downgraded by Standard & Poor's partly because of the effect a weaker currency has on their operations.
In any case, emerging-market central banks, armed with $7.5 trillion in foreign reserves, have ample resources to deal with the currency turmoil.
Governments nowadays mostly sell their debt in local currencies, leaving them relatively insulated from the currency slump. Foreign government debt totaled $1 trillion in 2013, dwarfed by local obligations of $5.2 trillion, according to the World Bank.
"You really have a scatter of companies that are going through a harder time," said Drausio Giacomelli, head emerging-markets strategist at Deutsche Bank AG. But "it's spread out enough for you to not see it as a systemic risk," he said.
Before it's here, it's on the Bloomberg Terminal.
LEARN MORE